Crypto Highlights and Favorite People of 2020
John Barry | Thu Dec 31 2020
2020 will always be remembered for the dreadful Covid19 Pandemic. Unfortunately, many have struggled, fallen sick, loved ones have died, lost jobs and more pain from COVID 19 will occur. One of the positives from a very challenging year has been the cryptocurrency market. The cryptocurrency market has always benefitted the small investor and created a few non-conventional millionaires. This is a short review of the people and products that have helped us advance our knowledge of the market, and will hopefully advance yours as well.
This list is in a random order, except I saved the best for last, no jumping ahead please and Happy New Year.
Consensus 2020
https://www.coindesk.com/events/consensus-2020
Consensus is always a worthwhile event. Some of the notable speakers we had the pleasure of seeing during the prior years include Brian Armstrong, Ricardo Spagni, Jack Dorsey, and Andrew Yang.
At a time when everything was being cancelled it was very uplifting to see Consensus would be proceeding. After a few of us had been sick with Covid19, it did feel like things were returning to normal. We also liked that it was free, as the cost of going to Consensus had been increasing to the point that we originally did not plan to attend in 2020.
Planning for Consensus probably starts shortly after the most recent Consensus ends, with this process repeating for multiple years now. We know switching to a plan B is never easy. Somebody at CoinDesk with foresight early on had to be asking "Can we do this?", "How do we do this?", "Is this really going to work?".
Impressively, Consensus proceeded virtually with Zoom and Brella. We did like the multiple sessions and we were able to meet new people having a productive virtual networking experience.
Coming up with a quick action plan that gets implemented into a successful transition is a major accomplishment. Being able to create this virtual conference with an emergency level timeline may be CoinDesk's finest moment.
Crypto Wendy O
https://www.youtube.com/channel/UCla2jS8BrfLJj7kbKyy5_ew
Wendy O talks about all things cryptocurrency. Wendy has an impressive range of knowledge regarding crypto, regulation, news, pineapple pizza and more. Having an exceptional speaking voice, with clarity and smarts makes for great cryptocurrency content.
Wendy O keeps everything relevant and real while providing content for beginners to profession traders. If we need and update on a breaking new story Wendy will have it covered with in depth analysis. She clearly identifies her association with sponsorship companies and provides unbiased reviews when talking about these companies. What we like most about Wendy O is that she is so passionate and she cares about the little guy.
It's hard to imagine there is anybody producing more cryptocurrency content on their own. She uses multiple social media platforms, every day, including You-Tube video, Instagram, Twitter and TikTok. She frequently informs her viewership on how to give back to the community. We also want to thank her for multiple shutouts she has made for us.
Lunar Crush
https://lunarcrush.com/markets?rpp=50&ob=name
Why do so many use coinmarketcap.com when there are so many better alternatives out there? Personally we want more than a cryptocurrency price, percentage change and market cap. Coinmarketcap does not even dynamically update its cryptocurrency prices.
Lunar Crush is one of the better alternatives out there. The nice value added features include their Galaxy Score and AltRanks for cryptocurrency. These metrics calculate the social engagement that is occurring for cryptocurrency tokens, a critically important element when researching a project. Successful projects require a community behind it that believes in its use case.
Lunar Crush provides quantity sentiment analysis required when researching a cryptocurrency project.
Crypto Mondays VR
https://www.youtube.com/channel/UC5Fw9NCwGs0hUBykr5YPjGw
One of the most disappointing things about the pandemic is the lack of Crypto meetups to attend. So shortly after the start of lockdown we were thrilled to discover that people were putting together crypto meetups in Virtual Reality. Crypto Mondays VR is the most exciting meetup in VR, and being able to listen to some great speakers such as DeFi Dad from zapper.fi and Brantly Milligan from ENS domains.
It was also a great opportunity to network with people that share similar interests despite not being able to attend in person events. Our co-founder, Alex Clark Barry, also had the pleasure of being invited on the show by the hostess Annalese to be able to talk about our company Quantify Crypto, big shout out to her for inviting me on, it was a blast!
Denome
https://www.youtube.com/channel/UC2IyN5ZpCnMYhCYQELBZczg
On May 31 2020, a mostly unknown Youtuber "denome", who had fewer than 1,000 subscribers (over 17,000 now) published a groundbreaking video on how he makes money using a mostly unheard of exchange called "Uniswap". It was titled "Provide Liquidity to Uniswap for Passive Income".
Since then over 65,000 views have occurred with an explosion of trading volume on the Uniswap exchange. Was this the video that sparked the volume surge at a mostly unknown DEX exchange? It's hard to say. However, this is the first video from a trader making money by being a liquidity provider. He reviews his earnings method strategy of collecting fees and describes the risks investors need to know.
If you want to provide liquidity on Uniswap I recommend watching this video.
Uniswap
When 2020 started, we had never heard of the Uniswap decentralized exchange(DEX). Since 2016 I have tried and mostly regretted using DEX exchanges. The price spreads were extreme, fees were too high and the UI was terrible. Some of the notable improvements since 2016 were in centralized exchanges. Then Uniswap arrived, making DEX trading a benefit.
Popularity for using Uniswap began in July of 2020 as its volume reached 1.7 billion US dollars. But Uniswap was just getting started, as its volume increased to over 6.7 billion in August. Then came the announcement of the Uniswap airdrop on September 1st, of 400 Uni tokens to holders on Sept 17th. This boosted volume to over 15.3 Billion.
Never before have we seen an exchange go from unknown to a leader in such a short period of time. Monthly volume on Uniswap surpasses Coinbase for September.
The secret sauce that made Uniswap a success is its automated market maker that uses liquidity pools instead of a centralized order book. The centralized order book model has been used for decades by stock exchanges and adapted for use by centralized cryptocurrency exchanges. The Uniswap model is designed to avoid the costly gas fees that occur if a centralized order book was running on the Ethereum platform. This cost avoidance and the sharing of trading fees with multiple individual liquidity providers has quickly become the gold standard for decentralized exchanges.
Eat the Blocks
https://www.youtube.com/c/eattheblocks
During the DeFi Summer we began trading on various decentralized exchanges, however the user interfaces for these exchanges were inferior to centralized ones. To trade on Uniswap, we needed to copy and paste the address of each coin individually, which led to a new etherscan/coingecko tab or two per trade, extremely inefficient. So we decided that integrating these new DeFi products into our existing cryptocurrency terminal was top priority, but first we needed to learn how to code Ethereum.
On Youtube there are many channels that offer video tutorials of solidity and web3 programming, the one I found most helpful was Eat the Blocks, hosted by Julien Klepatch. From his channel I learned many important skills for Ethereum and DeFi such as using web3 libraries in javascript and python, running my own local blockchain through Ganache and deploying solidity code to it, querying Ethereum data from TheGraph protocol, and how to do flash loans.
Julien also does a weekly DeFi news show at 10:00 am EST on mondays, as he is a strong developer, he provides the best analysis of the many flash loan exploits that happened this Summer.
Zapper
Zapper is one of the top Ethereum wallet analysis products, they provide great ways to view your balances, both in wallet and assets you have staked in pools. Their DeFi Zaps allow you to easily invest in liquidity pools across various protocols with a single click. This is especially helpful when you want to pool liquidity on Uniswap, which requires you to have a 50/50 ratio of the coins you are depositing.
Using Zapper you can add liquidity with only one token of the pool pair, and they will automatically do transactions in the background to get you a proper 50/50 ratio of the tokens you need to pool. In addition to having a great product that makes investing in Defi easier, they also have a great youtube show hosted by their COO Defi Dad. He consistently has amazing guests that are founders of the top defi projects, which makes Zapper a great place for both managing your assets as well as doing fundamental analysis and research of the top projects.
Ellio Trades
https://www.youtube.com/channel/UCMtJYS0PrtiUwlk6zjGDEMA
Ellio is a very knowledgeable Youtuber that has strong insights on how to trade the Uniswap markets. We first started following his channel during the Summer when our quest into on chain decentralized finance began. I was most impressed with his vibrant telegram chat community that has thousands of members and is very active. While Ellio is always covering many different gems, all the coins he talks about are actively discussed in his community chat before he goes live about them. We highly recommend you all watch his videos, and more importantly follow the telegram if you really want to get ahead.
Messari - "Crypto Theses for 2021"
https://messari.io/crypto-theses-for-2021?utm_source=messaricrypto&utm_medium=launchtweet&utm_campaign=2021theses
This 134 page document reads very quickly and reviews the projects, trends and companies to watch in 2021. It's clear that there is a very diligent and insightful team at Messari Crypto led by Ryan Selkis.
The "must read" 3 sections we liked the most were: #1 "Top 10 Trends We're Following", #3 "Top 10 investments Themes Real vs Relative Value", and #5 "Ethereum: The Parallel Financial System".
Predictions made with solid research and analysis are the most reliable ones to use. This was hands down the best cryptocurrency paper I read in 2020 and I consider this a must read for anybody interested in cryptocurrency investing.
Hopefully their big prediction of Bitcoin reaching $100,000 by the end of 2021 comes true.
Bitcoin
https://quantifycrypto.com/coins/BTC
Prior to 2020, the sting of the 2017 crypto market downturn was a bad memory.
Bitcoin started trading in 2020 at a price of $7,060. At the time of this writing, it had just hit a yearly high of $29,000 or a 300% return. During the month of December alone Bitcoin is up $10,600.
The fuel for this price increase has come from major financial institutions. A big change from the comments of financial leaders like Warren Buffet stating that Bitcoin was rat poison squared. Jamie Dimon calling Bitcoin a Fraud that will blow up (he has since recanted). Many talked and wrote Bitcoin obituaries and compared it to the Tulip bubble of the 1600s. It was nauseating to hear Bitcoin compared to Tulips.
Yes the Peter Schiffs of the world will continue bashing Bitcoin, but institutional acceptance has arrived in 2020.
Lets close with our favorite twitter poll of 2020 from Sept 7th (when Bitcoin was trading at $9,800). It's great to see 81.3% responded with the correct answer.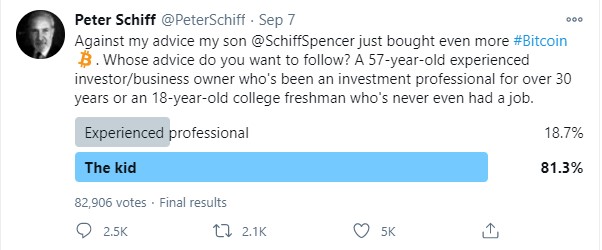 The platform Quantify Crypto provides live cryptocurrency prices, technical analysis, news, heatmaps and more. Our flagship product is the trend algorithm, designed to be on the correct side of significant cryptocurrency price moves. We are a new site, please check us out and let us know what you like and do not like about the site.

None of this is meant to be financial advice and I do not have any financial expertise. Although I worked at the New York Stock Exchange for over 23 years, it was as a developer supporting computer systems, not as a stock trader.

Full discloser: I do own Bitcoin and have stock positions.