Technical Analysis - Dec 24
John Barry | Thu Dec 24 2020
Hello and Happy Holidays to all. A special thank you to all of our supporters from Quantify Crypto as we continue to see a nice traffic growth to our website.
An XRP Disaster
People who follow my analysis know I am a big fan of the 1-hour candlesticks and the momentum trend indicator published on our website. This is the latest example of a small move occurring first before a significant price move.
The XRP/BTC chart below clearly shows that XRP has been severely under performing Bitcoin since Dec 12, 2020. While many altcoins have been weak against Bitcoin during this time period XRP has been one of the poorest performers.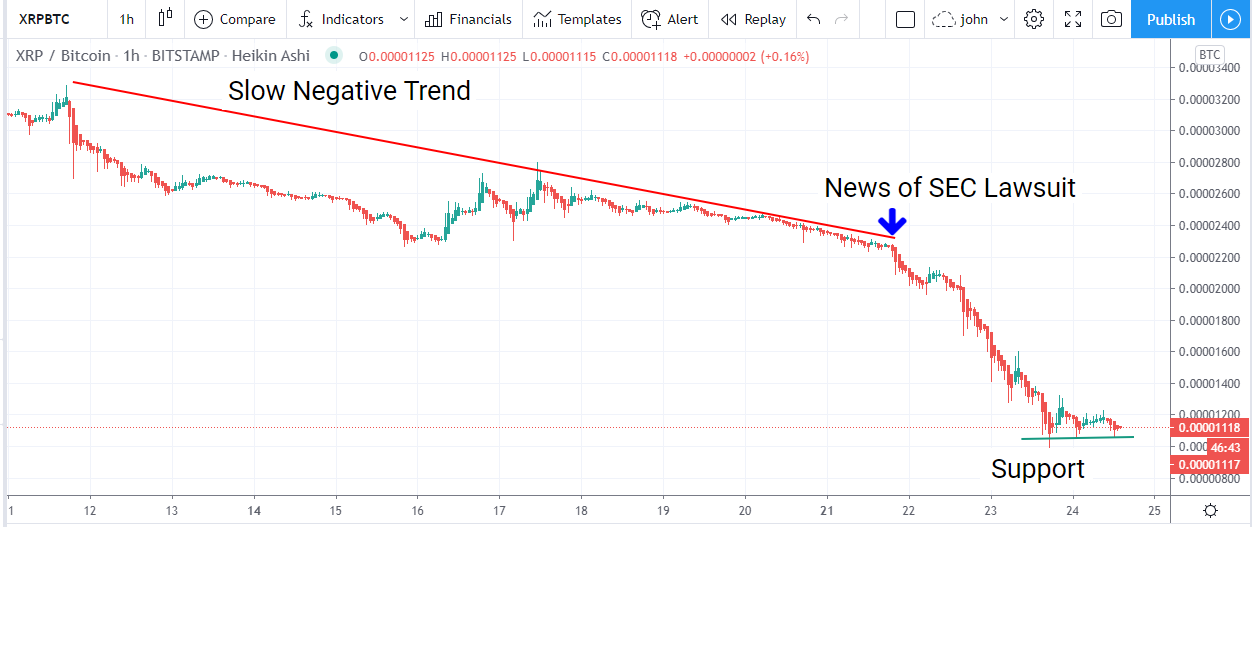 The blue arrow is when Brad Garlinghouse, CEO of Ripple Labs, tweeted that the SEC would be filing a lawsuit again Ripple, declaring the XRP was a security. Looking at the time prior to the announcement (~8pm Dec 21st EST) XRP has been on a steady downturn for 5 days. Now XRP seems to be at a support level at 0.00001 BTC (~0.25 USD). Expect more volitility and unpredictable price movement as additonal judgements and motions occur in the court system. Remember the 1 hour candlesticks are critically important in the crypto markets.
BItcoin Technical Analysis - Dec 24, 2020
Since we have been seeing an increase in European readers, this analysis is in the Euro, however any fiat currency can be used since most fiat currencies have much smaller price moves between them. In the United States the USD $24,000 level is not as psychologically significant as the €20,000 is in Europe.
Bitcoin continues its impressive run, at the time of writing it is trading at €19,150 (~$23,000 USD); up over 100% since my article on Sept 10 when Bitcoin was trading at ~€8,460 (~$10,258 USD). However along the way it had a 2 day drop after hitting resistance at €16,600. I feel there is the potential for a short term correction at this level as the €20,000 is turning into a key resistance level.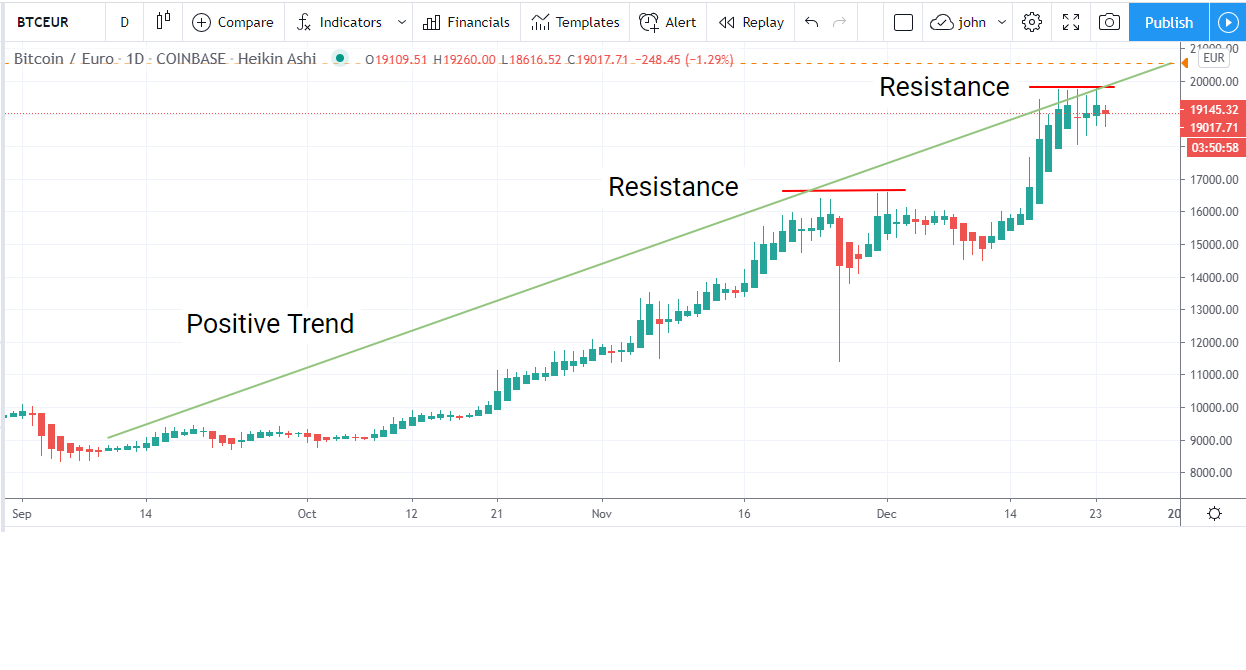 One of my favorite statements is "Don't be afraid to take profits". While the Bitcoin technicals remain neutral, significant resistance has occurred just below the 20,000€ ($24,000) level. I feel the €20,000 level is very significant. Bitcoin is not stronger than the global markets. Specifically the temporary global downturn in the stock markets on Dec 20th may be a warning. If stocks continue to be weak all asset classes will turn downwards. While there will be debates if stocks and Bitcoin are correlated, I would avoid that argument and make sure your profits are secure. I did take some profits and remain 50% in with my trading account (NOT financial advice).
Currently the technical indicators for Bitcoin are slightly bullish. The trend mean score is 76% (bullish) Bitcoin is trading above its baseline (bullish), MACD scores are bearish for 5 time periods we cover, Bollinger Bands and RSI indicators are neutral.
Institutional Bitcoin buying
The news of multiple Institutions buying Bitcoin is well established and an important point is Coinbase is performing most of this purchasing. Coinbase released an overview paper of how they do this, in summary they make many small purchases across multiple exchanges with the average purchase size of 0.3 BTC. They do have a smart Bot performing the purchases, since September. Historically Bitcoin has a greater price volatility than stocks, this has not been true the past few months. I feel this is due to 2 factors, first stocks are trading at higher volatility than their historical history. Secondly I feel the Coinbase bots are buying the Bitcoin dips, this is speculation on my part I have no proof. However the price patterns of Bitcoin these past few months shows significant support after Bitcoin price drops.
The Bitcoin factors
Technical Analysis is currently bullish for Bitcoin.

Bitcoin has hit significant resistance at the $24,000 level, tested 4 times and declined to $23,000 support level. The most recent drop saw it go to $22,000; this may be a warning.

Institutional buying is occurring, there is an appearance of dip buying.

Majority of the leading Altcoins have bearish technical indicators. Most Altcoins have underperformed Bitcoin this past week and month.

Global stock markets needed to be observed on how they respond to the latest Covid19 news
Looking into 2021
I feel Decentralized Finance (DeFi) will continue to grow in usage
I plan on starting some YouTube Videos about our website and how to gain maximum value from it.
We will be applying updates to both QuantifyCrypto and DefiHeatmap
Again Happy Holidays and be safe. Remember to take some Vitamin D and Zinc to help prevent severe symptoms from COVID19.
The platform quantifycrypto.com provides live cryptocurrency prices, technical analysis, news, heatmaps and more. Our flagship product is the trend algorithm, designed to be on the correct side of significant cryptocurrency price moves. We are a new site, please check us out and let us know what you like and do not like about the site.

None of this is meant to be financial advice and I do not have any financial expertise. Although I worked at the New York Stock Exchange for over 23 years, it was as a developer supporting computer systems, not as a stock trader.

Full discloser: I do own Bitcoin and have stock positions.