Current Bitcoin Support and Resistance Levels
John Barry | Tue Oct 17 2023
The following is 1 page from the 6 page Bitcoin Research Report available to Gold Subscribers
Recent news and upgrades: On October 16 it was reported by Cointelegraph that the Grayscale spot ETF would be getting SEC approval. This came after a real news story from Oct 13 that the SEC won't appeal its loss in Grayscale Case. This caused a price spike that had Bitcoin hit a price just under $30,000.
Two hours later, Grayscale announced that the Cointelegraph story was false, causing the price of Bitcoin to fall back to $28,000.
The impact of this false story caused $72 million worth of short positions to be liquidated on the move to $30,000 and $31 million in longs were liquidated during the correction back to $28,000.
Current Bitcoin Support and Resistant Levels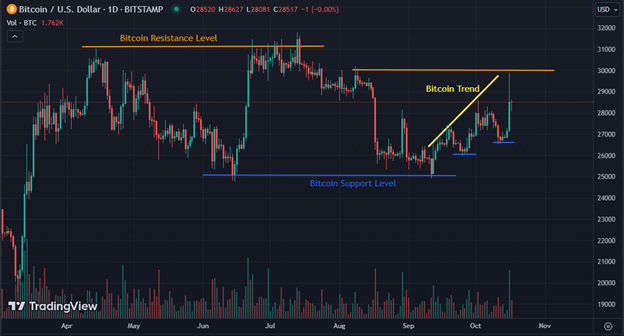 From the two preceding price charts, data indicates that Bitcoin is experiencing its eighth significant price trend of 2023, we have labeled it the October correction. As mentioned in the report from September 30th: "for Bitcoin to return to a bull cycle, it needs to trade above $28,200 accompanied by a surge in volume." That milestone has been achieved! The current trend is Bullish.
The next immediate resistance level stands at $30,000. This threshold holds significant psychological weight; during the last price surge, multiple sell orders were activated at this mark. Analyzing the price chart further suggests that the subsequent resistance hovers around the $30,800 bracket. If Bitcoin goes above the $30,800 level it could led to a price surge based on the slow buildup of price momentum that is occurring with the current price chart.
The reaction to the false Cointelegraph story does highlight the upward trajectory Bitcoin might adopt once a spot ETF gains approval. At present, the SEC, having lost its case regarding the necessity of making a definitive ruling, and will not be appealing the verdict. Numerous politicians, regulatory departments, BlackRock, and the broader investor community are advocating for this approval. With its recent judicial setbacks, the SEC faces mounting pressure. However, the SEC's persistent efforts to curtail cryptocurrency mean that predicting their next move remains a challenge.
Disclaimer
Quantify Crypto is an informational website that provides market data, technical analytics and links to news and commentary sources. Information published on Quantify Crypto platform should not be taken as investment advice in any way. Quantify Crypto is not an investment adviser and you agree not to site the Quantify Crypto platform or content as the reason or cause for making any trading decisions. Quantify Crypto is not accountable, directly or indirectly, for any damage or loss incurred, alleged or otherwise, in connection to the use or reliance of any content you read on the site. You agree not to consider the information on Quantify Crypto platform as a solicitation to invest in any cryptocurrencies, initial coin offerings, or other financial instruments.