Peter Schiff's Crypto Blunders of 2020
John Barry | Wed Jan 06 2021
Peter Peter Peter, when will you learn
Peter started out 2020 by losing hits access to his Bitcoin wallet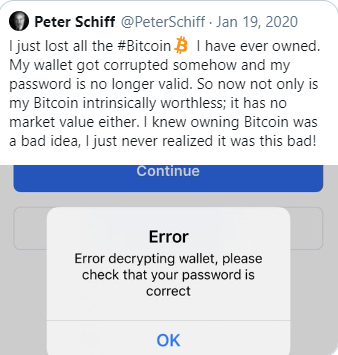 3 days later, after a few tweets declaring he did not forget his password but something broke with the wallet he tweeted: "I mistook my PIN for my password" . We assume he was able to get his Bitcoin however it was not clear as some future tweets indicate he could access his Bitcoin while other state he could not access them. Hopefully he was able to get his Bitcoin as it went up over 300% for 2020.
Peter Gets Boastful
Peter got very boastful when Bitcoin had its worse day of the year on March 12th.

As all Crypto Twitter followers know, there is no better indicator for predicting Bitcoin upwards spikes than a Peter Schiff trash tweet about Bitcoin. In the next 20 minutes, the Bitcoin price rises from $3,978 to $5,743. An increase of 44% in 20 minutes. I review his tweet and how trading went in detail in this article. The March 12 Bitcoin Rollercoaster Bitcoin continues to have a steady upswing, recovering all of the March 12th price dump by June 1st. Buying Bitcoin at the bottom price of 4,000 would have yielded a 400% by Dec 31st. Again thank you Peter for this Timely tweet
Another Peter FUD Attack
Next is a Peter's FUD attack, of course this is a reoccurring theme for him this was one of the most far reaching ones.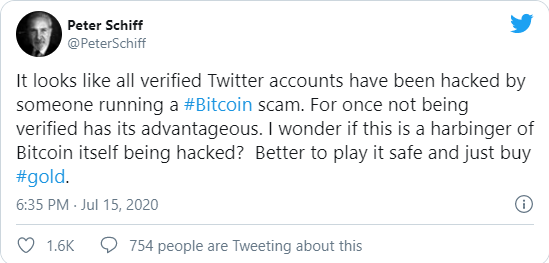 Of course the hacking of Twitter accounts has nothing to do with Bitcoin. Talk about 2 completely different technologies a centralized server compared to the de-centralized blockchain. While Bitcoin exchanges and other holders of Bitcoin have been hacked; Bitcoin has never been and never will be hacked. He shows no understanding of how blockchain technology works.
Father Doesn't Know Best
Next more proof a Peter Schiff smacking of Bitcoin leads to a price increase. On Sept 7th Peter is frustated with his son for buying more Bitcoin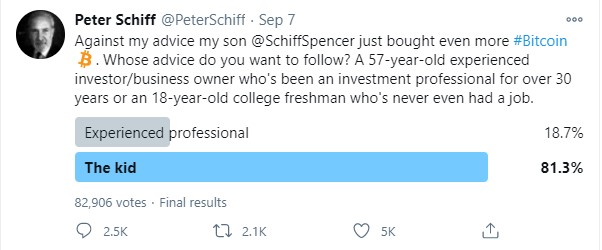 The price of Bitcoin on Sept 7th is around $10,000. Bitcoin starts a historical runup, it closes out the year trading at $28,726 an ~180% increase for this time period. Again Peter's advice about Bitcoin is incorrect - what a shocker. Of course the majority of Peter's followers, 81% impressive, know best about Bitcoin. Hopefully Peter continues tweeting about Bitcoin in 2021.
The platform Quantify Crypto provides live cryptocurrency prices, technical analysis, news, heatmaps and more. Our flagship product is the trend algorithm, designed to be on the correct side of significant cryptocurrency price moves.

None of this is meant to be financial advice and I do not have any financial expertise. Although I worked at the New York Stock Exchange for over 23 years, it was as a developer supporting computer systems, not as a stock trader.

Full discloser: I do own Bitcoin and have stock positions.