The Lagging Bitcoin Death Cross
John Barry | Fri Feb 10 2023
In the stock market world of finance and investment, a golden cross is a bullish signal that is formed when the 50 day moving average crosses above the 200 day moving average. This signal, which is decades old, has been proven effective for stock market trading.
Where you burned by the Bitcoin Golden Cross?
Despite its success in the traditional stock market, the fast-paced and volatile nature of the cryptocurrency market makes it difficult for the indicator to keep up. The Golden Cross often lags for cryptocurrency market movements, failing to provide timely signals for traders.
On Feb 6th Bitcoin had its "Golden Cross", with Bitcoin at a price of $22,949. At the time of this writing, Bitcoin is trading at $21,886.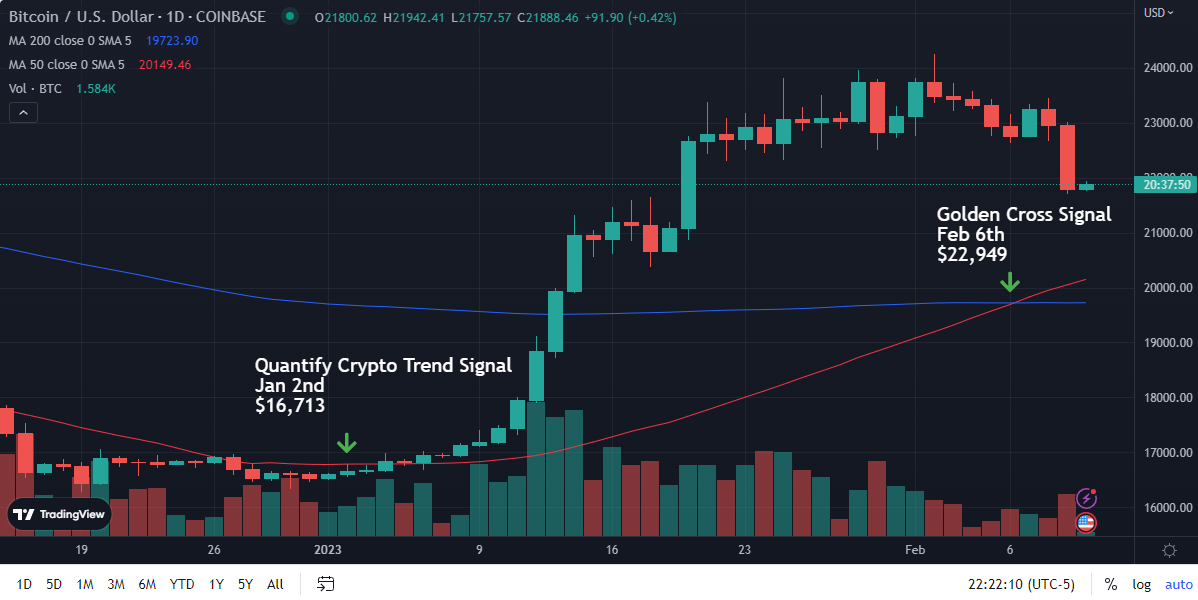 Problem - The Golden Cross Lags
The recent drop in Bitcoin's value by $1,107 since the Golden Cross buy signal may not be significant when considering the overall trend. In fact, Bitcoin has risen by an impressive 40% since January 2nd, which is when the Quantify Crypto trend algorithm gave its bullish signal. This highlights the fact that the Golden Cross indicator is lagging behind by more than a month in comparison to algorithms designed for cryptocurrency.
The Quantify Crypto Trend Signal - Bullish on Jan 2 at $16,713

Premium Analysis of Bitcoin Golden Cross in Quantify Crypto
This image is from the Quantify Crypto Premium Content page for gold subscribers

https://quantifycrypto.com/ provides real time technical signals and analysis to support your trading decisions. We have the fastest live price feed of all cryptocurrency informational platform. Our proprietary trend algorithm calculates the predicted direction of future price moves. It is specifically tailored for the cryptocurrency market. Our state-of-the-art displays are designed to provide maximum amount of significant data on a single screen.

None of this is meant to be financial advice and I do not have any financial expertise. Although I worked at the New York Stock Exchange for over 23 years, it was as a developer supporting computer systems, not as a stock trader.

Full discloser: I do own Bitcoin and other Altcoins.