9 Reasons Ethereum will Surpass Bitcoin in Market Cap
John Barry | Fri Feb 05 2021
Ethereum is up almost 400% since Nov 1, 2020 when it was trading at $400. As this article ages this percentage will probably increase.
While I study and practice technical analysis for the leading cryptocurrencies, I am a big believer that you should be performing both technical and fundamental analysis for anything you invest or trade in.
These are my 9 fundamental reasons why Ethereum one day will surpass Bitcoin in marketcap.
1) Vitalik Buterin
Behind every great startup/company is a visionary leader who thinks of new radically improved ideas. After working with Bitcoin for over a year, Vitalik became one of the first with this early vision of blockchain: "I started to realize that there were a lot more interesting things you can do with blockchain than just a single peer to peer currency … I came up with the idea behind Ethereum. This idea of a blockchain with a built in programming language as the simplest and most logical way to actually build a platform that can be used for many more kinds of applications." Today we take this concept for granted. Vitalik will continue to be a visionary for future Ethereum development.
Bill Gates, Steve Jobs, Elon Musk are some of the visionaries of great products today. Someday Vitalik may be included in the list of great visionaries, I feel he is off to a strong start.
2) Enterprise Ethereum Alliance (EEA)
This is the corporate adoption part of Ethereum. Their mission is to enable organizations to adopt and use Ethereum technology in their day-to-day business operations. Specifically, they assist in connecting the Ethereum Blockchain for Enterprise (Corporate) usage. The EEA has a global reach with offices in United States, China, France and Japan.
There are over 129 companies in the EEA, some companies include Microsoft, Intel, JP Morgan Chase Bank, N.A. John Hancock Life Insurance, ING Bank N.V. FedEx, Banco Santander SA and VMware, Inc. In the future this list will continue to expand.
3) The Ethereum Foundation
To quote from the Ethereum Foundation website "The Ecosystem Support Program is a large-scale effort aimed at ensuring that the Ethereum ecosystem has the support it needs to succeed. We provide financial support to teams and organizations working on important projects across the Ethereum ecosystem and beyond, as well as guidance and non-monetary support "
The Ethereum Foundation has funded over 109 Ethereum based projects with proceeds over $24 Million. Funding Ethereum projects leads to applications and use cases that will use Ethereum. In the long term many of these funds will help smaller development groups fund applications that use the Ethereum platform.
4) Ethereum Adoption – The Platform Leader
While Cardano, EOS, NEO, Tezos and others are all trying to be a platform leader and explaining why they are better than Ethereum, Ethereum in fact is dominating all of them. The best example are the numerous cryptocurrency projects that are currently built on Ethereum. This includes 18 cryptocurrency projects worth over $1 billion in market cap, and a long list of other projects too numerous to list.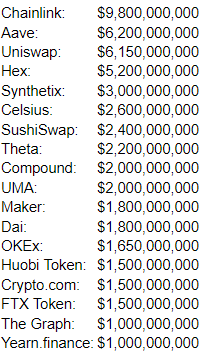 5) Largest Cryptocurrency Development Teams
Data from the Electric Capital Developer report (Dec 2020) shows that there were 2,325 Ethereum "Monthly Active Developers (MAD)" as of Oct 31st 2020. This count is up 215% in the past 3 years. For Bitcoin there were 361 MAD as of Oct 31st 2020, up 70% in the past 3 years. There was an increase of 67% MAD for DeFi projects in the first 10 months of 2020. Outside of these areas, most crypto projects are seeing a decrease in MAD.
In summary Ethereum, has the largest number programmers working on projects that improve and expand its use cases.
6) Ethereum v2.0
The goals of ETH v2.0 is to make it more scalable, secure, and sustainable. Specifically, v2.0 will support 1000s of transactions per second allowing applications to run faster and be cheaper to use. To make Ethereum more sustainable it is converting from a proof of work protocol to a proof of stake protocol; requiring less computing power and much less energy usage.
This is a multiyear upgrade; the depth of this upgrade is too much for a fast bullet article like this. At a high level, these are the 3 significant phases of the v2.0 upgrade
Beacon Chain went live on Dec 1st, 2020. Brings staking to Ethereum and lays the groundwork for future upgrades.
Shard Chains is scheduled to start in 2021 (month unknown). Expands Ethereum's capacity to process transactions and store data. Separate "Shards" will gain more features over time and be rolled out in multiple parts.
The Docking is the merging of the current Ethereum network with the v2.0 network. This will switch Ethereum to a Proof of Stake algorithm.
For more details about v2.0, I recommend the following link https://ethereum.org/en/eth2/
7) The Decentralized Finance (DeFi) Explosion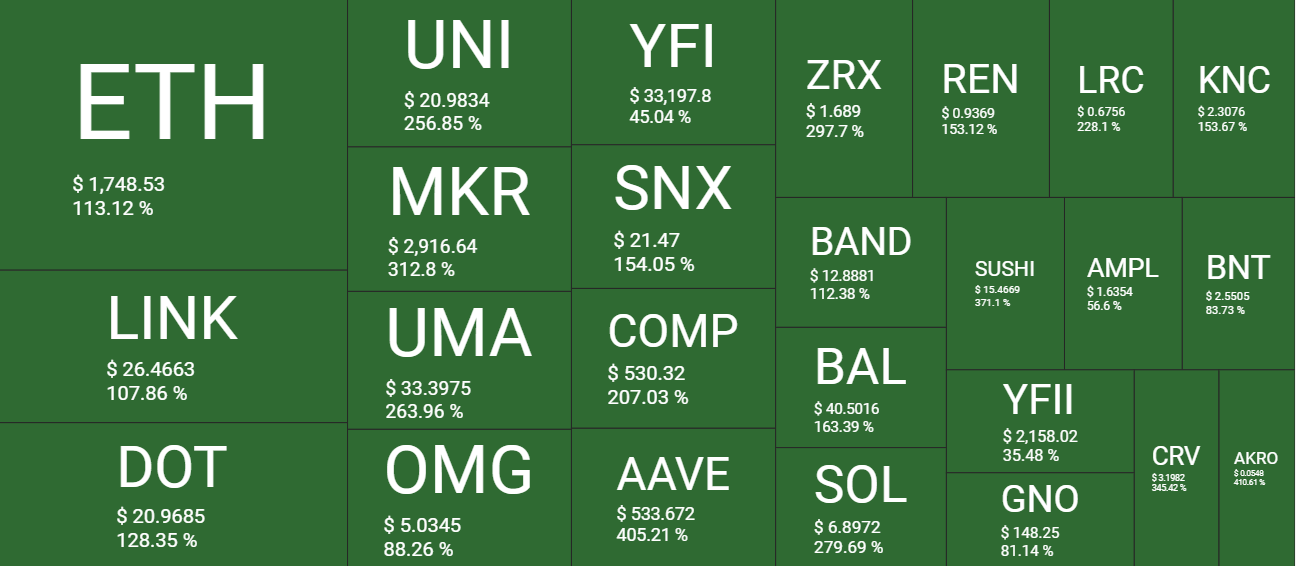 The use cases and price increases for DeFi is outstanding in 2021. Cryptocurrency leaders so are include Akropolis (+410%), Aave (+405%), Sushi Swap (371%), Maker (313%), Solana (280%), UMA (+264%), Uniswap (+257%) , Loopring (+228%), Compound (+207%). Its a powerful list. I had to rewrite this section 3 times and the percentage gain for these companies are changing rapidly.
Most (all but Polkadot) of these leading DeFi cryptocurrency projects run on the Ethereum platform. Meaning rapid growth in Defi leads to significant growth for Ethereum. The Ethereum foundation has provided funding for Uniswap and Compound via their grant program.
8) Ethereum network usage hitting all-time highs
The Ethereum price and network usage are the two key metrics that determine the cost of the "gas" fees to perform transactions on the Ethereum Network. You do not need to perform on chain Ethereum analysis to know gas fees are rising.
The Defi explosion has led to increased gas fees to trade ETH/DAI is estimated at $52 (fast). This is extremely high. If I wanted to move .1 ETH to DAI, 25% of the cost would be paid in fees which is astronomical. The reason for these high fees is due to how busy the Ethereum network has become. Much of the fees collected go to the Ethereum miners.
This increase has led to the popularity of trading gas futures with the UMA platform. This is a full story all by itself for a later date.
9) Institutional Traders
On February 8th CME Group starts trading Ethereum futures. Many traders have had success trading Bitcoin, this brings a second cryptocurrency trading option to them. When futures trading first starts it brings volatility to that asset. However over the long term it provides an additional method to invest in the new asset.
Ethereum checks many of the boxes (reviewed earlier in this article) that investors like. Wall Street types love fundamental analysis, there is more visibility for Ethereum than any other cryptocurrency. Specifically, you have a visionary leader, strong development team, financing of new projects, and steady revenue source that can be tracked.
This is a significant step towards bringing Ethereum on par with the trading opportunities that institutions have used for trading Bitcoin.
Ethereum long term grown offers more than Bitcoin
Ethereum reminds me of Microsoft and the Windows operating system. Since it became the platform for PC applications for business and home. Ethereum is now the leading cryptocurrency platform.
Bitcoin has become its own unique asset class and investment; its goal is to become a leading global currency in addition to being a store of value. Ethereum is a cryptocurrency platform that is executing an extraordinarily successful corporate business plan. History has shown companies that continue to innovate as the marketplace changes have the greatest long-term success.
While Bitcoin makes many headlines, and the new crypto darling is anything having to do with DeFi. Ethereum has all the necessary checkmarks traditional stock traders look for when investing based on continuous growth and expansion. I see a bright future for Ethereum an expect it to overtake Bitcoin in 3 years.
If you liked this article, please like it and share. Also don't forget to check out our website at https://quantifycrypto.com/ We have updates and exciting announcements that you do not want to miss out on coming soon.
The platform https://quantifycrypto.com/ provides live cryptocurrency prices, technical analysis, news, heatmaps and more. Our flagship product is the trend algorithm, designed to be on the correct side of significant cryptocurrency price moves.

We are a new site, please check us out and let us know what you like and do not like about the site. None of this is meant to be financial advice and I do not have any financial expertise. Although I worked at the New York Stock Exchange for over 23 years, it was as a developer supporting computer systems, not as a stock trader.

Full discloser: I do own Bitcoin and many other cyrptocurrencies.