Bitcoin Technical Analysis - A Momentum Switch
John Barry | Wed Sep 02 2020
The goal of this article is to show how I trade using the indicators on the QuantifyCrypto.com website and the thought process I am following
All Indicators Turn Negative
Last night (Sept 1st) between the 2nd and 3rd period of the New York Islanders / Philadelphia Flyers game (~9 pm), I checked the Quantify Crypto website to see the Trend scores for Bitcoin and the other leading cryptocurrencies had changed from positive to negative. Additionally, all of the secondary (confirmation), MacD, Baseline, RSI all had turned negative. This caused me to sell the majority of my trading assets (I also have long term bags I never touch).
Specifically for Bitcoin all of the trend scores were below 40%, the shorter term ones were 10-20%. The confirmation indicators were bearish as well: 1 hour MACD crossed to bearish at 6pm (EST), The Bitcoin price fell below is baseline (11,932) at 7pm, The short term RSI values were touching 30 (a sell indicator for Crypto)

Lets review the 1 hour BTC/USD chart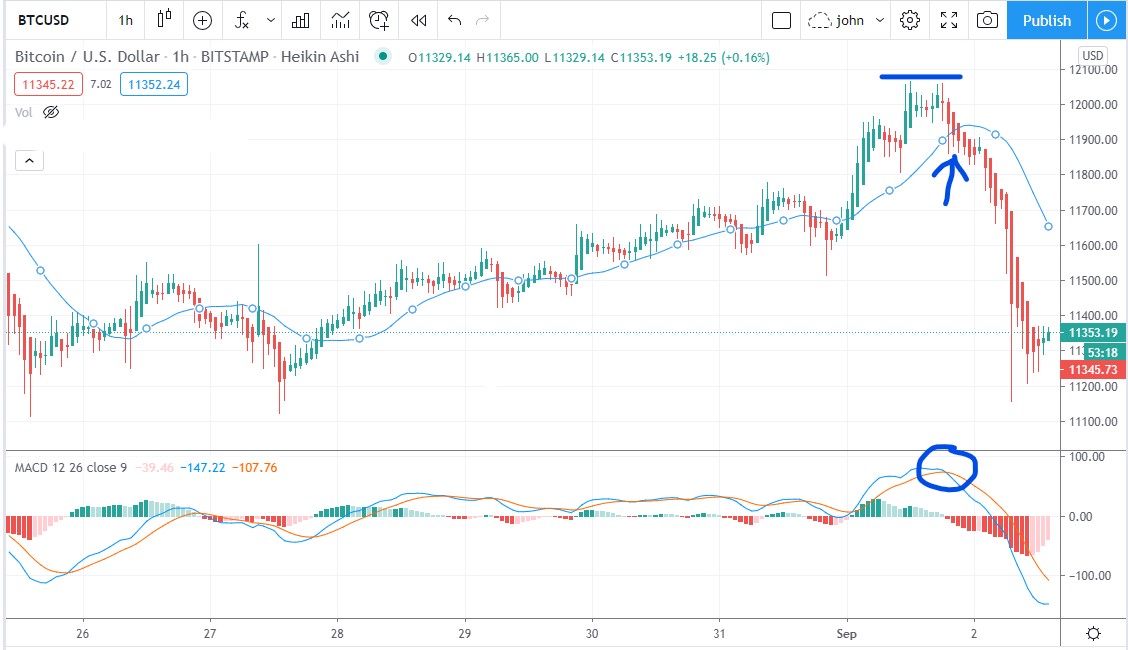 People who follow me know I value the 1-hour candelstick charts for momentum. After seeing stable prices and/or a price increase for 12 to 48 hours continuously is a primary bullish signal for me. Again this had proven to be correct for an upside gain. Looking at the blue resistance line I drew in, Bitcoin failed 4 times to go above 12,100. At 9pm (Blue Arrow) the 1 hour trend is clearly negative, 1 Hour MACD is bearish (Blue Circle), the Bitcoin Price has fallen below the baseline level (blue line on the chart). So primary indicator - Bearish, 2 secondary (confirmation) indicators - Bearish.
Lets review the 15 Minute BTC/USD chart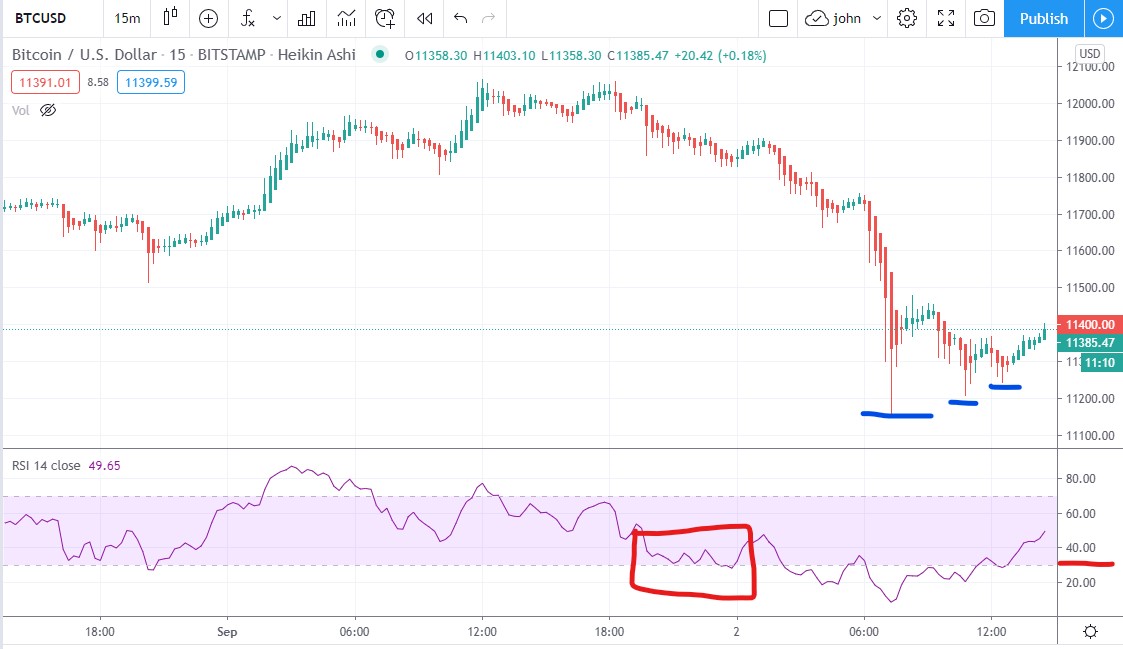 The 15 minute chart shows a clear negative trend and the RSI is touching the 30 level (in addition to the 5 minute RSI) Additional confirmation that is was time to sell at 9pm.
Additionally other leading cryptocurrencies had similiar technical indicators and chart patterns. More bearish indicators.
In summary selling was an easy decision as I caught the majority of the recent Ethereum move from $391 to $468 and had a good profit. My primary indicator was bearish, and my 3 secondary indicators were all bearish. Yes I did not sell at the top, but I was happy with a nice gain after the trend turned bearish. My other positions were all profitable, but not as good as ETH.
My next move
I will wait until Bitcoin has positive trend scores above 70 and seeing confirmation of the Baseline, MacD and RSI being neutral or positive (need 2 out of 3 of these to be positive)
I will choose the altcoins that are also trending positive, as the altcoins have higher beta values and have been providing stronger returns when buying the dip than Bitcoin.
I currently see support at the 11,200 level. If this level is broken I will wait longer to get back in.
Current Indicators - Sept 2nd 3:30 EST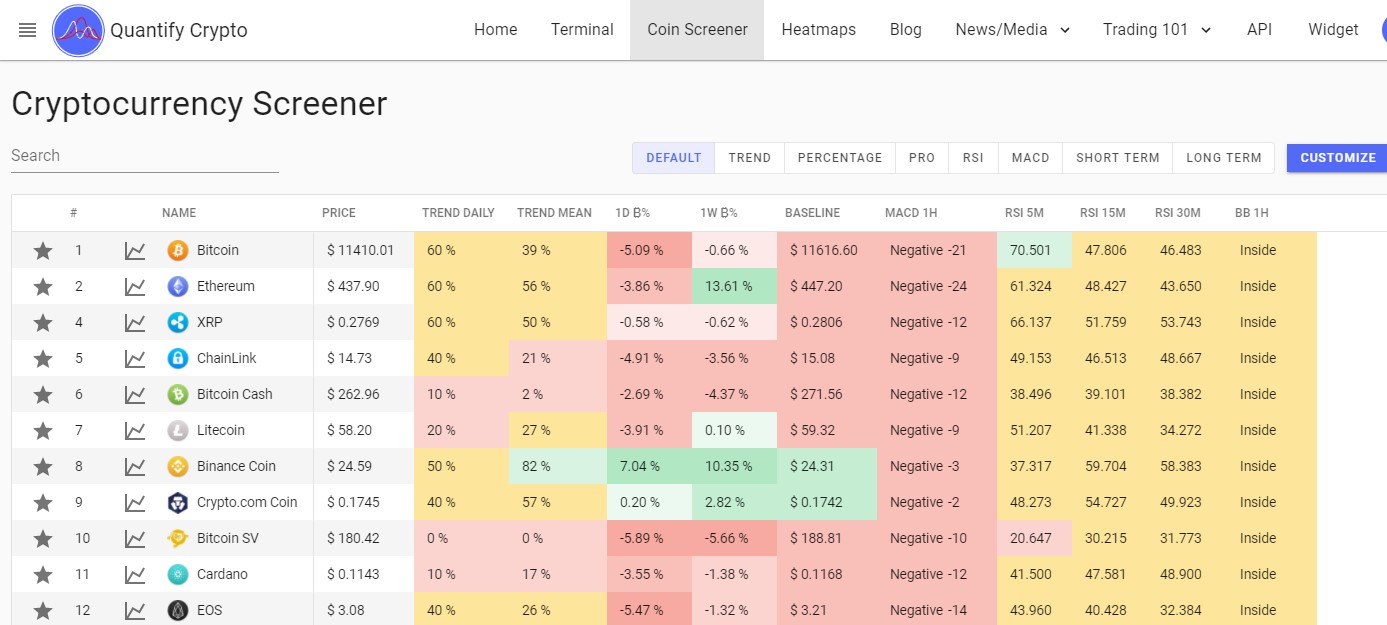 Currently Bitcoin and the other top cryptocurrencies all have negative or neutral technical indicators. There is not a single trend score above 70%, all 1 Hour MACDs are negative, short term RSI are mostly neutral, all trading within the Bollinger Bands. The only excpetion is the 5 Minute RSI value for Bitcoin, one secondary indicator is not a buy signal. I want to see multiple positive analytics before I jump back in so I continue to be out. I will be looking closely at Ethereum, as that was the high cap altcoin that had the best run this past week. I expect that will have the best recovery also.
The platform Quantify Crypto provides live cryptocurrency prices, technical analysis, news, heatmaps and more. Our flagship product is the trend algorithm, designed to be on the correct side of significant cryptocurrency price moves. We are a new site, please check us out and let us know what you like and do not like about the site.

None of this is meant to be financial advice and I do not have any financial expertise.

Although I worked at the New York Stock Exchange for over 23 years, it was as a developer supporting computer systems, not as a stock trader. Full discloser: I do own Bitcoin and have stock positions.