Elon Buying Twitter - Impact on Dogecoin
John Barry | Tue Oct 04 2022
The latest news is that Elon Musk is going ahead and buying Twitter instead of proceeding with a trail against the Twitter board of directors in a Delaware Court which was scheduled to start on Oct 17th.
"This is a clear sign that Musk recognized heading into Delaware Court that the chances of winning vs. Twitter board was highly unlikely and this $44 billion deal was going to be completed one way or another," - Dan Ives of Wedbush Securities
Based on information that was leaked in the past few months, one of the key plans Musk has for Twitter is to shift the business model from advertising towards to a subscription model and to adopt a money transfer service.
Musk's love of Dogecoin is well know due to his many favorable tweets about it. He even brought up Dogecoin when he hosted "Saturday Night Live".
With the idea of Twitter having a money transfer service one has to think he may want to be using Dogecoin for this. He could follow the model used by Ripple Labs for using XRP as transfer model for financial institutions.
The crypto market seems positive to this idea as Doge is up since the announcement and is showing strong technical indicators.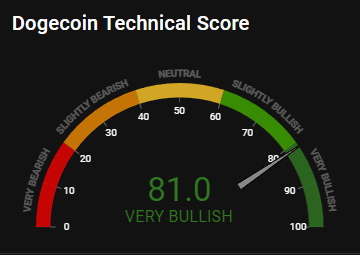 The Quantify Crypto Trend algorithm signalled a bullish signal on Sunday Oct 4, so it looks like some early buying may have been occurrings. Click here for the latest Dogecoin price analysishttps://quantifycrypto.com/coins/DOGE

Quantify Crypto provides real time technical analysis to support your trading decisions. We have the fastest live price feed of all cryptocurrency informational platform. Our proprietary trend algorithm calculates the predicted direction of future price moves. It is specifically tailored for the cryptocurrency market. Our state-of-the-art displays are designed to provide maximum amount of significant data on a single screen.

None of this is meant to be financial advice and I do not have any financial expertise. Although I worked at the New York Stock Exchange for over 23 years, it was as a developer supporting computer systems, not as a stock trader.

Full discloser: I do own Bitcoin, Dogecoin and other Altcoins.