Enhance Your Crypto Research with Quantify Crypto Expert Rankings
John Barry | Mon Sep 11 2023
It has only been two months, however for the second consecutive month, our ranking showcased its precision. To review, the Quantify Crypto's research reports contain three pivotal metrics:
1)Ranking: Evaluates the overall performance and potential of a cryptocurrency relative to its peers.
2)Timeliness: Offering insights into the cryptocurrency's current momentum and immediate prospects.
3)Safety, a measure that assesses the inherent risks and stability of the digital asset.
Together, these metrics provide a comprehensive snapshot, empowering readers to make well-informed decisions in the dynamic landscape of cryptocurrency.
These results are based on the top 52 cryptocurrencies, which are the ones we've produced research reports for. We aim to continually expand our list of research reports.
In the first two months, the "ranking" metric has proven to be highly accurate.
The following chart illustrates this: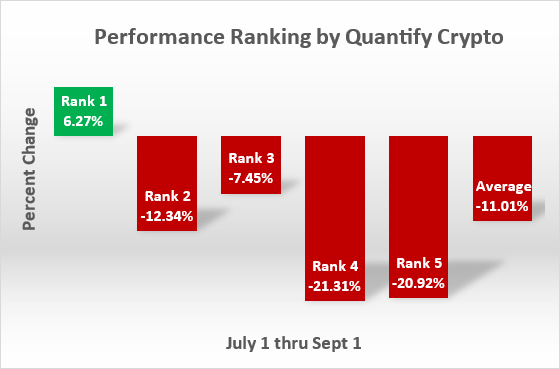 The Quantify Crypto Timeliness metric has performed even better. Cryptocurrencies with a Timeliness rating of 1 (very bullish) have significantly outperformed, while those with ratings of 4 (bearish) and 5 (very bearish) have notably underperformed.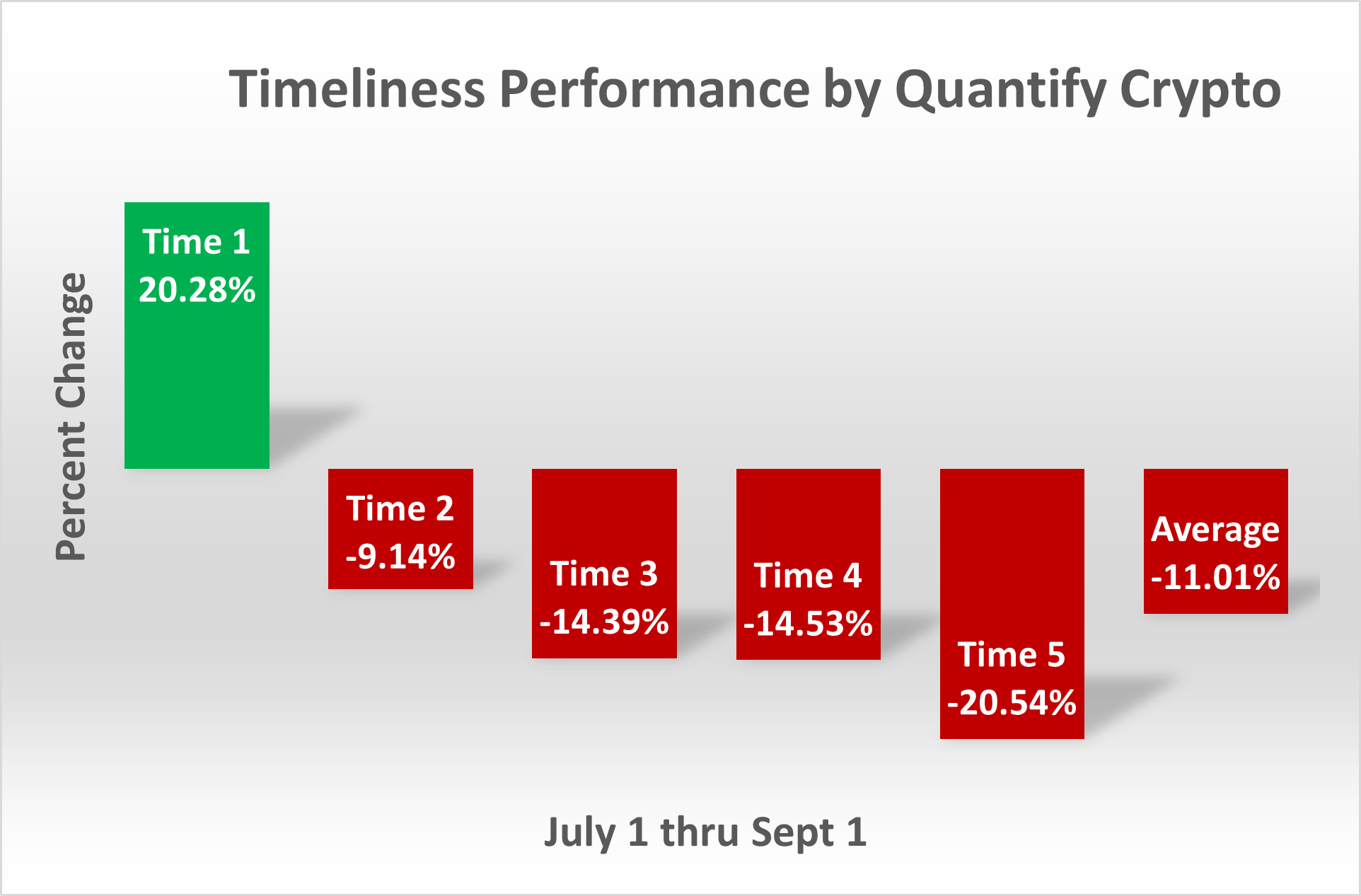 Quantify Crypto's research reports provide comprehensive insights into the leading cryptocurrencies. Each report features a Ranking, Timeliness, and Safety Score to evaluate the potential and risks associated with each digital asset. Beyond these scores, the reports delve deeper into the specifics of each cryptocurrency, offering details about its Background and Fundamentals. Moreover, to keep investors informed, the reports include sections on Recent News and Upgrades, a thorough Price Analysis, and Final Thoughts to sum up the analysis and provide actionable insights.
Cryptocurrency research reports are available for Gold subscribers. Click on this link to see a sample report: Aave Research Report
Disclaimer
Quantify Crypto is an informational website that provides market data, technical analytics and links to news and commentary sources. Information published on Quantify Crypto platform should not be taken as investment advice in any way. Quantify Crypto is not an investment adviser and you agree not to site the Quantify Crypto platform or content as the reason or cause for making any trading decisions. Quantify Crypto is not accountable, directly or indirectly, for any damage or loss incurred, alleged or otherwise, in connection to the use or reliance of any content you read on the site. You agree not to consider the information on Quantify Crypto platform as a solicitation to invest in any cryptocurrencies, initial coin offerings, or other financial instruments.