How to use the Coin Screener and Setup Alerts
John Barry | Tue Feb 14 2023
These are the links to our most recent vidoes on Quantify Crypto features on YouTube
A special thanks to the Bitcoin Queen for her help
How to use the Quantify Crypto Screener.
The Powerful Quantify Crypto provides a competitive edge in crypto trading. Quickly find the best investment opportunities using our advanced sorting and filtering tools. Personalize your search with the "favorite coin" feature and match your portfolio.
https://www.youtube.com/watch?v=Z5qPffZBV00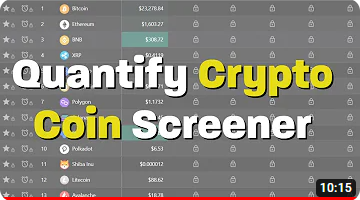 How to set up alert signals.
This video reviews how to set Trend, Support, Resistance (Profit taking), Pump and Dump alerts. Note: a gold Quantify Crypto subscription is needed to create alerts
https://www.youtube.com/watch?v=Ihog3mYYr2Y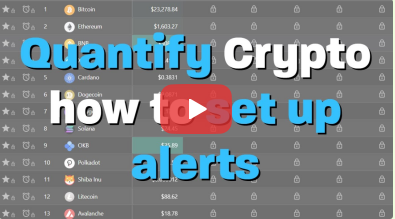 https://quantifycrypto.com/ provides real time technical signals and analysis to support your trading decisions. We have the fastest live price feed of all cryptocurrency informational platform. Our proprietary trend algorithm calculates the predicted direction of future price moves. It is specifically tailored for the cryptocurrency market. Our state-of-the-art displays are designed to provide maximum amount of significant data on a single screen.

None of this is meant to be financial advice and I do not have any financial expertise. Although I worked at the New York Stock Exchange for over 23 years, it was as a developer supporting computer systems, not as a stock trader.

Full discloser: I do own Bitcoin and other Altcoins.