November 2020 - A Great Month for Crypto
John Barry | Tue Dec 01 2020
November was a great month for Crypto. 35 out of the top 36 trading tokens we cover were up Many significantly higher. Leading was Civic +169%, Horizen +143%, Sushi Swap +136%, XRP +133%, AAVE +123% WOW

Coinbase Announcements Cause Major Price Moves
On November 5th, Coinbase made the announcement that Civic, District0x and Decentraland would be trading on Coinbase. All three of these ERC20 tokens had been trading on its Coinbase Pro platform since June of 2018. Since the majority of Coinbase volume occurs on Coinbase Pro this did not seem to be that big of a deal. In fact regular Coinbase (used to be called Coinbase Prime) transactions are not even included by Coinmarketcap or CoinGecko, they only have Coinbase Pro trades.
Here is the Coinbase blog post that sent these three token soaring Coinbase Blog Post - Nov 5
All three of these tokens had significant price moves. From Nov 5th to Nov 10th Civic went up 520%; District0x hit a high up 810%; Decentraland hit a high up 100%.
A Closer Look at Civic
Looking at Civic more closely, it started the month at $0.0244, reaching a price of $0.1866 with volume increasing 182,000 on Nov 4th to 289,976,000 on Nov 10th. The Civic website has not had any news articles posted between Oct 14th and Nov 22 (This story is related to DeFi Insurance company "Cover" and Civic is not mentioned). Likewise the Civic company twitter account was silent during the Nov 3rd thru 10th timeframe. Vinny Lingham is a frequent tweeter, however did not tweet any company news between Nov 3rd and 10th.
Tokens have a long history of going up after being announced that they are going to be trading on Coinbase. Most of these announcements caused the tokens to be added to Coinbase Pro. I cannot recall a cryptocurrency going up as much as Civic and Distric0x did up just because added to Coinbase Prime.
Coinbase Announcement for unknown NuCypher token
Coinbase which has strict listing requirements announced on Nov 30, that you could transfer NuCypher token to its Coinbase Pro platform and that trading of NuCypher would start on Wednesday Dec 2nd (9 am Pacific Time). On Twitter the immediate reaction was WHAT? WHO? Coingecko has the market cap value field filled in with a question mark. Coinmarketcap gives it a market cap of over 60 million dollars (at the time of this writing) and ranks it at #253; however has no data for yesterday's price for NuCypher.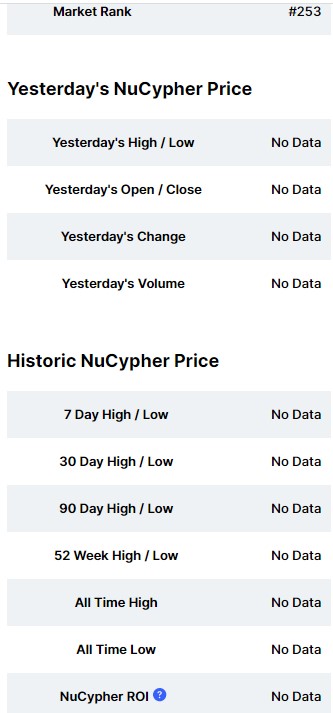 In summary this was a shocking announcement from Coinbase. It will be very interesting to see how this actually trades on Dec 2nd. TradingView does not have a price chart for NuCypher, since it does trade on UniSwap I am using the trading chart from DeFi Heatmap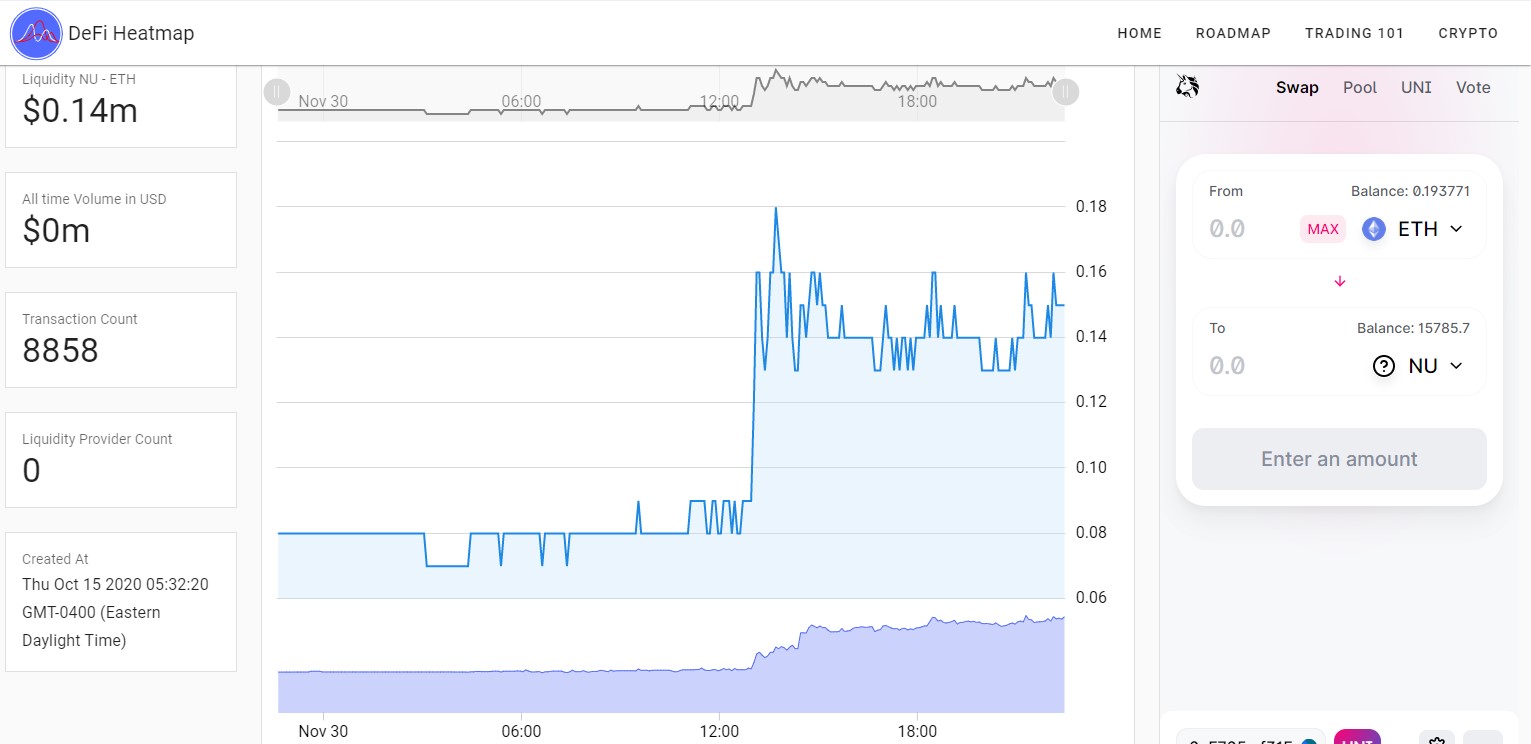 XRP and Stellar Lumens
Two of the leading crypto in November was XRP (+133%) and Stellar Lumens (+121%). XRP has been in a close trading range all year, spending most of its time trading between $0.20 to $0.25. In fact it was subject to many punchlines during the year due to its stagnant performance. However XRP fans had plenty to be happy about when its price reached $0.78 on Nov 24th.
Stellar Lumens tends to a trading correlation to XRP, this was true for November. As both of these crptos started going up on Nov 20th, with XLM hitting its peak price on Nov 25th.
DeFi Heats UP
Major DeFi gainer in November included Sushi Swap (+136%), Aave (+123%), yearn.finance (120%) and Curve DAO Token (64%).
Bitcoin and Ethereum
The two Crypto leaders had a great month. Bitcoin hit an all time high price on Nov 30 at $19,856 while Peter Schiff continues to talk about Tulips, Butterflies and golden rocks. Bitcoin was up 41% in November and has a year to date gain of 170%.
Meanwhile Ethereum was up 52% in November and has a year to date gain of 244%. Also the Ethereum V2.0 multi year update starts on Dec 1st.
In Summary, December looks like it will have plenty of action. Stay tuned.
The platform Quantify Crypto provides live cryptocurrency prices, technical analysis, news, heatmaps and more. Our flagship product is the trend algorithm, designed to be on the correct side of significant cryptocurrency price moves.

Our new sister site is https://defiheatmap.com/ The Beta version was launched on Nov 29th 2020. Please check us out and let us know what you like and do not like about the site.

None of this is meant to be financial advice and I do not have any financial expertise. Although I worked at the New York Stock Exchange for over 23 years, it was as a developer supporting computer systems, not as a stock trader.

Full discloser: I do own Bitcoin and other Cryptocurrencies.