Terra Luna - Buy, Sell or Avoid
John Barry | Tue May 10 2022
On May 5th the Quantify Crypto signals turn Bearish
The Crypto markets have been in a downturn since May 5th, when most indicators on the Quantify Crypto platform turned bearish. This included Luna, the 1-hour trend signal turned bearish at a price of $83.38

Weak Global Markets on May 9th
Global stock markets started poorly on May 9th and only got worse as the day progressed. In the US markets the Nasdaq100 finished down 4%. Unfortunately, the Crypto market continues to be tightly coupled to the Nasdaq100 performance causing Bitcoin and the majority of the altcoins to post double digit percentage losses.
Then came the news that the stable coin used in the Terra Luna ecosystem, Terra USD (UST) had lost its "Peg" against the US Dollar and was falling. The chart below shows its fall to the bottom, $0.60, before it recovered back to a high of $0.94. This caused the Terra Foundation to start selling its assets (mainly Bitcoin) trying to restore the UST price back to $1.00.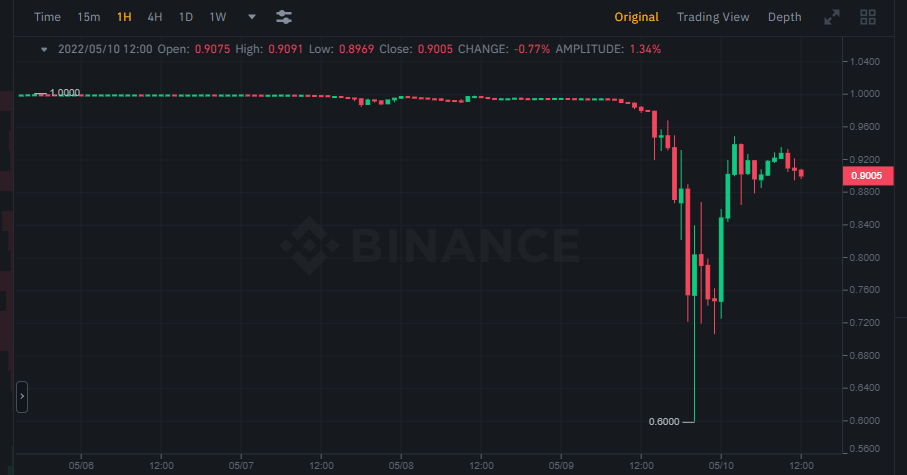 Is it time to Buy, Sell or Avoid Terra Luna?
I feel the picture below tells the story, prior to May 9th funds in the Luna Foundation Guardian Reserves was just under 4 billion dollars. Selling these funds failed to bring the UST price back to $1.00 and has removed the safety blanket, the fund now has less than 200 million dollars. It seems a bailout is needed to save Luna at this point. Ninety cents on the dollar hurts, but more pain may be coming. It seems best to avoid, if you still own some of these assets (including Anchor Protocol, which is the DEX trading platform for Terra Luna) all signals are currently very bearish.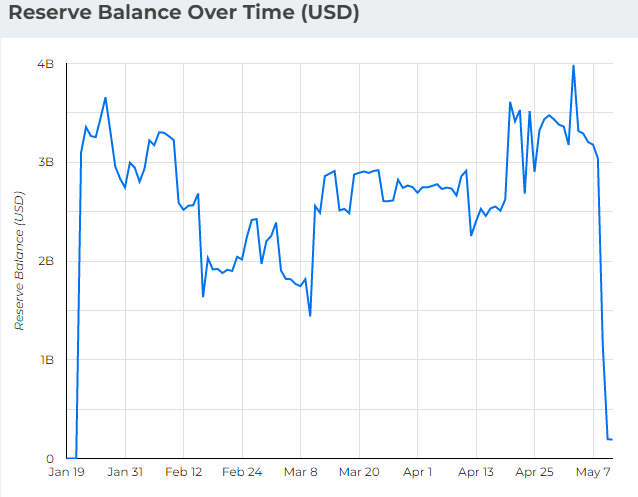 Is there any Good News here?
Ethereum, Solana, Cardano, Avalanche, Polygon, and other "platform" cryptocurrencies all lost a major competitor. The price downturn for all of these was not as severe as the rest of the leading cryptocurrencies and all are showing relative strength compared to the rest of the crypto market.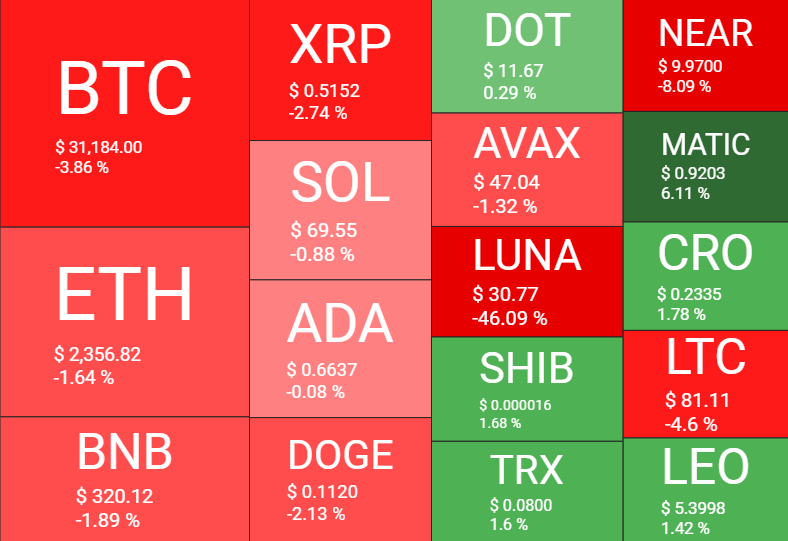 Quantify Crypto provides real time technical analysis to support your trading decisions. We have the fastest live price feed of all cryptocurrency informational platform. Our proprietary trend algorithm calculates the predicted direction of future price moves. It is specifically tailored for the cryptocurrency market. Our state-of-the-art displays are designed to provide maximum amount of significant data on a single screen.

None of this is meant to be financial advice and I do not have any financial expertise. Although I worked at the New York Stock Exchange for over 23 years, it was as a developer supporting computer systems, not as a stock trader.

Full discloser: I do own Bitcoin and other Altcoins.