The Crypto Cosmos Dazzled in October
John Barry | Sun Nov 05 2023
In October, the crypto cosmos dazzled with an average gain of 11% across the board. But the true spectacle was the comeback kids of 2023—previously underperforming coins—that shot to stardom last month.
October's Crypto Celebrities
- Nine digital dynamos, in the top 50 by marketcap, soared with 20% gains:
Solana ($SOL): Skyrocketed with a 66% increase, thanks to Solcasino.io becoming the largest crypto casino in the world and seeing its NFT collection balloon by 130%.
Bitcoin SV ($BSV): Not just up by 52%, but also caught in a whirlwind of drama with nChain's CEO resigning amidst accusations, while billionaire Calvin Ayre scooped up BSV amidst the chaos.
Chainlink ($LINK): Hit the limelight again with a 39% rise, marking its second consecutive month of stellar growth.
Render Token (RND), Aptos ($APT), Bitcoin ($BTC), Stacks ($STX), Cronos ($CRO), and Internet Computer ($ICP) all dazzling fans with over 20% gains.
Unpredictable Plot Twists - In a twist no one saw coming, our "Timeliness" top-rated cryptos took a back seat as the undervalued underdogs became the MVPs of October, hinting that savvy traders might be playing the classic "sell high, buy low" game.
The Solana Phenomenon - The "Mad lads" NFT collection, part of the Solcasino.io star cast, notched a 150% sales spike and a 48% transaction uptick. These numbers sent Solana soaring in the market standings.
BSV's Corporate Drama - nChain's leadership tussle and Christen Ager-Hanssen's departure amid heated controversies and "shadowy" corporate maneuvers had the crypto community glued to their screens, with deleted tweets adding a layer of mystery.
In essence, October was a month of thrilling rallies, dramatic turnarounds, and plot twists worthy of a Hollywood blockbuster in the crypto world.
Providing Technical and Fundamental Analysis
QuantifyCrypto's dual ranking systems provide investors with a comprehensive view of the crypto market. While the 'Timeliness' model offers a snapshot of current momentum and trends, the 'Strength' system dives deeper, illuminating the intrinsic worth of crypto assets. When used in tandem, both models can significantly enhance an investor's decision-making process, balancing short-term gains with long-term value.
Exclusive Access for Gold Subscribers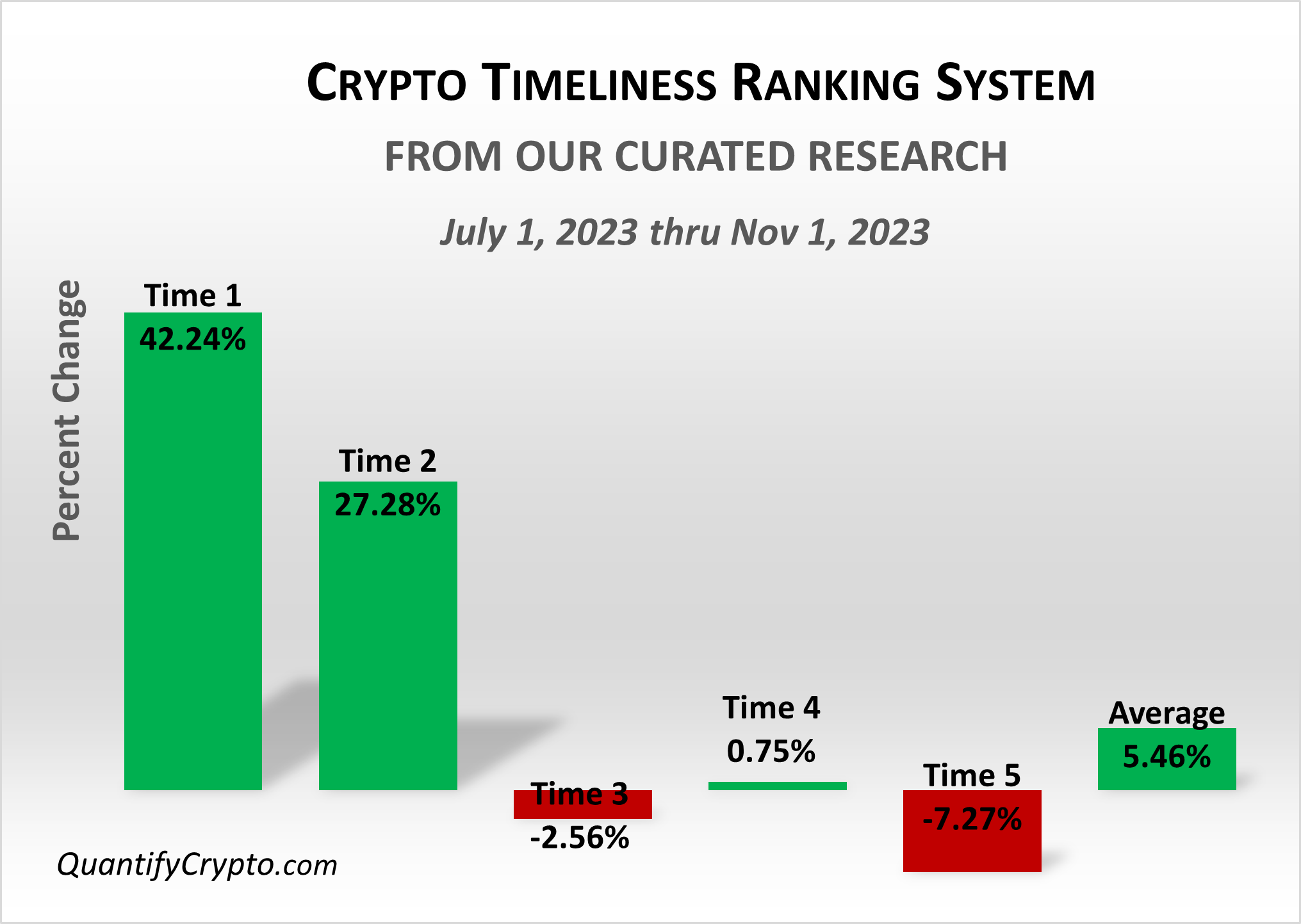 For those seeking an edge in the crypto market, these invaluable reports are exclusively available to our Gold subscribers. For just $49.99 per month, you can gain access to these in-depth analyses, offering a treasure trove of insights and data. It's a modest investment when you consider the potential returns from making informed trading decisions. Witness the depth and clarity of our research firsthand by exploring these links: Sample Report 1 Sample Report 2 Elevate your trading game and ensure you're always one step ahead in the volatile world of cryptocurrencies. We currently have research reports for the top 64 cryptocurrencies based on the marketcap displayed on the Quantify Crypto website.
Disclaimer
Quantify Crypto is an informational website that provides market data, technical analytics and links to news and commentary sources. Information published on Quantify Crypto platform should not be taken as investment advice in any way.
Quantify Crypto is not an investment adviser and you agree to not site the Quantify Crypto platform or content as the reason or cause for making any trading decisions.
Quantify Crypto is not accountable, directly or indirectly, for any damage or loss incurred, alleged or otherwise, in connection to the use or reliance of any content you read on the site. You agree not to consider the information on Quantify Crypto platform as a solicitation to invest in any cryptocurrencies, initial coin offerings, or other financial instruments.