VeChain Research Report
John Barry | Tue Aug 08 2023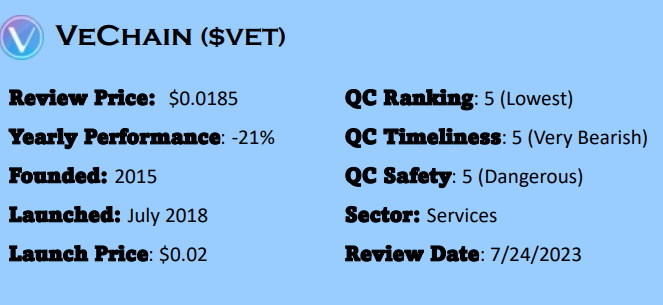 Overview: VeChain is a blockchain platform designed to enhance supply chain management and business processes through the use of distributed ledger technology. It was founded in 2015 by Sunny Lu and is based in Singapore. VeChain aims to revolutionize various industries by providing a transparent, traceable, and trustworthy ecosystem for product verification, supply chain logistics, and data management.

VeChain operates on a dual-token system. The primary token is VET (VeChain Token), which is used for value transfer and to perform transactions on the platform. The secondary token is VTHO (VeThor Token), which is used to pay for the cost of executing smart contracts and running applications on the network.
VeChain primarily targets enterprise-level applications, making it well-suited for businesses and organizations looking to improve supply chain management and enhance the transparency of their operations.
VeChain claims to have secured partnerships with multiple companies, including Walmart China, PricewaterhouseCoopers (PwC), BMW, and many more. However, there have been whispers that some of these "partnerships" are more PR than actual usage.
For example, in 2017, many crypto outlets reported that VeChain had a partnership with PwC. However, six years later, there is no news of development, implementation or product from this partnership. The only report on the PwC website talks about an "Air Trace" tracking product with blockchain, however, there is no mention of VeChain. Of course, PwC is prominently listed on the VeChain website.
VeChain Price Analysis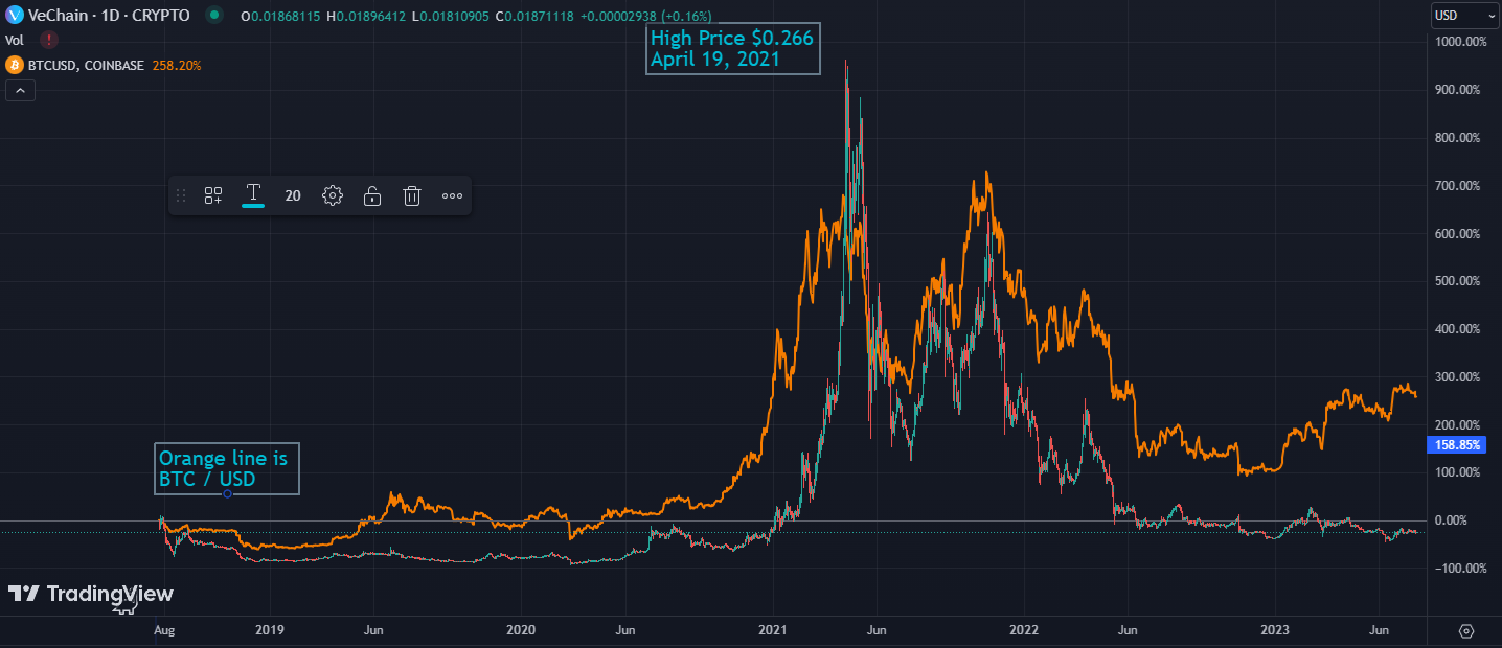 After five years of trading, VeChain is almost at the same price as it was on its first day of public trading. For the first four years, it was closely tied to the price of Bitcoin and underperformed.
Since November 2021, VeChain has lost 89% of its value, making it one of the worst-performing cryptocurrencies in terms of price performance.
Final Thoughts: Continuing the partnership or PR theme, in 2018, it was announced "VeChain confirms partnership with BMW." However, currently, on the BMW website, there is a reference to "How blockchain automotive solutions can help drivers," but there is no mention of VeChain on the BMW website. Despite conducting searches, no press releases from BMW about VeChain were found. So, where is the actual use of VeChain by BMW? In 2018, there is mention on a BMW USA Twitter account that "VeChain is participating in the BMW Startup Garage program."
In the crypto industry, claims made by a crypto project need to be backed by proof. While we appreciate the concept provided by VeChain, we need evidence of actual usage by enterprise companies. Based on historical price performance and a lack of press releases from enterprise companies using VeChain, Quantify Crypto ranking for VeChain is exceptionally low.
Disclaimer
Quantify Crypto is an informational website that provides market data, technical analytics and links to news and commentary sources. Information published on Quantify Crypto platform should not be taken as investment advice in any way. Quantify Crypto is not an investment adviser and you agree to not site the Quantify Crypto platform or content as the reason or cause for making any trading decisions. Quantify Crypto is not accountable, directly or indirectly, for any damage or loss incurred, alleged or otherwise, in connection to the use or reliance of any content you read on the site. You agree not to consider the information on Quantify Crypto platform as a solicitation to invest in any cryptocurrencies, initial coin offerings, or other financial instruments.