Uniswap V3 and Price Analysis - What's Next
John Barry | Mon Mar 29 2021
Uniswap started the month of March with a price of $22.88. Hayden Adams got things started on March 19th when he tweeted "If I have to go another week without publicly announcing details of Uniswap v3 I might go insane". This caused an instance price spike.
The announcement came on March 23rd with the details of their planned V3 release. Prior to the announcement the Uniswap price was trending higher reaching an all-time high of $36.88 when the announcement was made. However this long-awaited announcement sent the price of Uniswap downwards. Many had hoped that V3 would be launching and were disappointed to hear V3 will not happen until May. A few in the crowd were hoping for a Uniswap airdrop announcement, that did not happen either. A tough crowd for sure.
See the chart action below: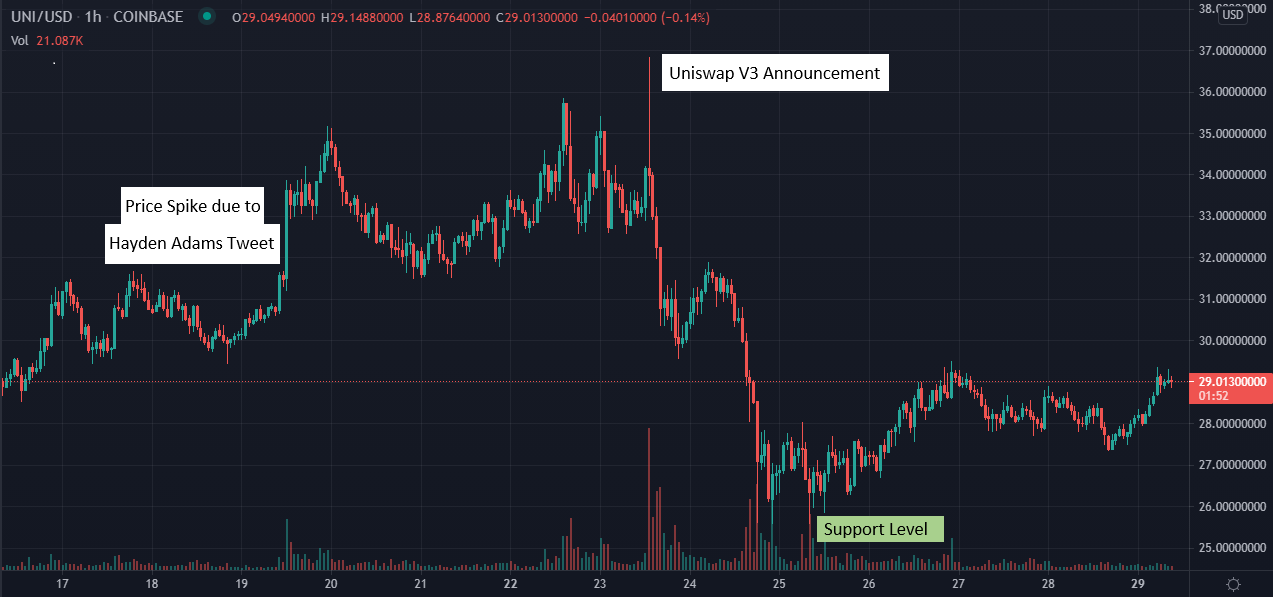 While the traders did not like the announcement, I feel this represents the next innovative level of advancement for Uniswap. Uniswap has proven to be the innovation leader in the DEX space, with others copying what Uniswap does. It reaching at point where superior work needs to be safeguarded, this is one of the steps Uniswap has been foreced to do.
High level V3 Highlights
Looking into the details of the Uniswap V3 announcement, the future of Uniswap appears very positive. Here are some highlights. This link has the details https://uniswap.org/blog/uniswap-v3/
Capital Efficiency Improvement – Liquidity Providers can provide the same liquidity depth as v2 while putting less capital at risk. This occurs with the ability to create concentrated positions with price ranges. I highly recommend you review this concept in the Uniswap detailed link.
Reduction in Impermanent loss risk – Applying the capacity efficiency improvement with price ranges reduces impermanent loss risk, currently the biggest risk with Uniswap V2
Advanced Oracles – Time Weighted Average Price (TWAP) oracles in V3 can calculate any recent TWAP within the past 9 days in a single on-chain call. The single call makes it easier and cheaper, 50% lower gas fees, for oracles to be up to date with the most recent prices.
Business Source License – This limits other companies, like Sushi Swap, applying the V3 software features to the V2 version without an agreement from Uniswap. Uniswap is taking the necessary step to protect their innovative and proprietary applications that did was not exist for Uniswap V1 and V2 versions.
Gas fees will be reduced after the L2 deployment on Optimism (Ethereum network upgrade)
The expansion of Uniswap started in the summer of 2020 and has continued to be strong. The roadblock Uniswap currently faces has been the increase of Ethereum gas fees that has occurred due to its popularity. Prior to the summer of 2020 trading volume on all of the DEX exchanges was insignificant compared to Centralized cryptocurrency exchanges. Uniswap clearly changed that narrative and their goal is to change the narritive again. The data below shows Uniswap is preferred choice for trading on a decentralized platform.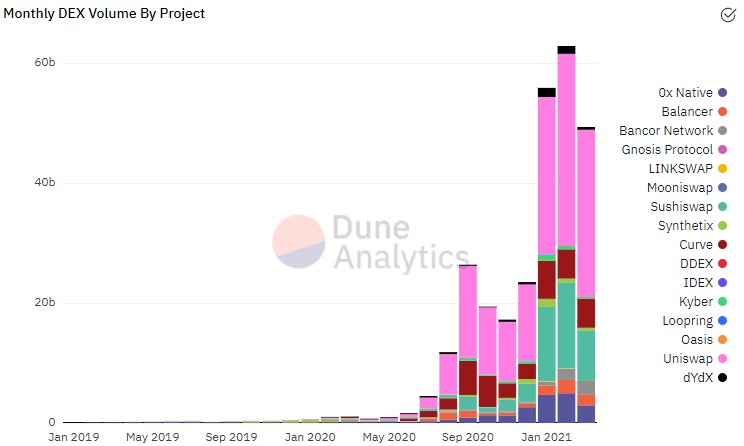 Can Uniswap be better than Coinbase ?
While the Uniswap expansion from September to today has been impressive, Coinbase has seen a larger increase in volume. This increase is due to the very large institutional funds going to Coinbase. To give context the largest volume day for Coinbase in September with just over $1 trillion; on February 23rd 2021 Coinbase had volume of $9 trillion. Daily volume averages between 2 to 5 trillion on most days.
I know from trading on my own accounts, I had to stop using Uniswap as the gas fees became too expensive. I am sure this is the case for the majority of traders, being forced back to centralized exchanges like Coinbase. The flexibile and ease that existed in Uniswap this past summer and fall was better than using a centralized exchange. Its looks like Uniswap will be a good option once mid May arrives. Will this increased activity be enough to push it ahead of Coinbase again? Probably not, I do not see the major institutions using DEX exchanges, it took many of them over 10 years to finally purchase Bitcoin.
My next article will be a technical analysis review of Uniswap. I plan to do this then the indicators do turn Bullish. Currently Uniswap is under performing compared to the price movement of Bitcoin. I will be waiting for the next bullish trend to start for Uniswap for sure. In the meantime you can see what our analytics say about Uniswap with the following link https://quantifycrypto.com/coins/UNI
The platform Quantify Crypto provides live cryptocurrency prices, technical analysis, news, heatmaps and more. Our flagship product is the trend algorithm, designed to be on the correct side of significant cryptocurrency price moves. We are a new site, please check us out and let us know what you like and do not like about the site.

None of this is meant to be financial advice and I do not have any financial expertise. Although I worked at the New York Stock Exchange for over 23 years, it was as a developer supporting computer systems, not as a stock trader.

Full discloser: I do own Bitcoin, Uniswap, and have other altcoin positions.