XDC Network Research Report
John Barry | Tue Aug 08 2023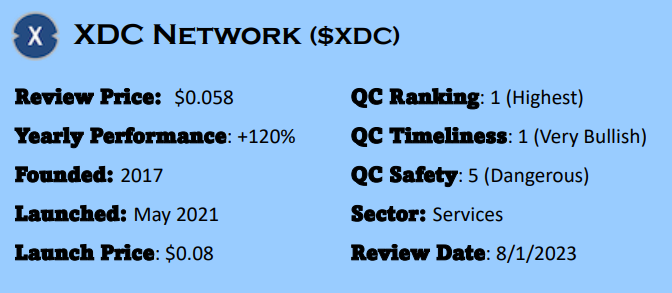 Overview: The XinFin Network was founded by a team with backgrounds in international business, finance, and technology. The team includes co-founders Atul Khekade, Ritesh Kakkad, and Karan Bharadwaj. XinFin, which stands for "Exchange Infinite," was established in 2017.
The XinFin Digital Contract (XDC) is a hybrid blockchain network platform using a public blockchain combined with the security and speed of private networks. The goal of this hybrid design is to make it ideal for an enterprise interface.
XinFin Private Network lets any kind of enterprises connect their legacy systems with a Blockchain Network using the XDC Protocol and messaging compatible with ISO20022 standard. This standard has been widely adopted by major financial institutions worldwide because it facilitates the communication and processing of data across various types of financial transactions, including payments, securities, trade services, cards, and foreign exchange.
ISO 20022 is used by many entities, including banks, market infrastructures, and even corporate businesses. SWIFT, the international banking communication network, is currently transitioning to ISO 20022. This transition is significant because SWIFT handles a vast majority of the world's cross-border and international transactions. Other organizations, like the Federal Reserve and The Clearing House in the United States, are also planning to adopt ISO 20022 for their payment systems.


XDC Network Price Analysis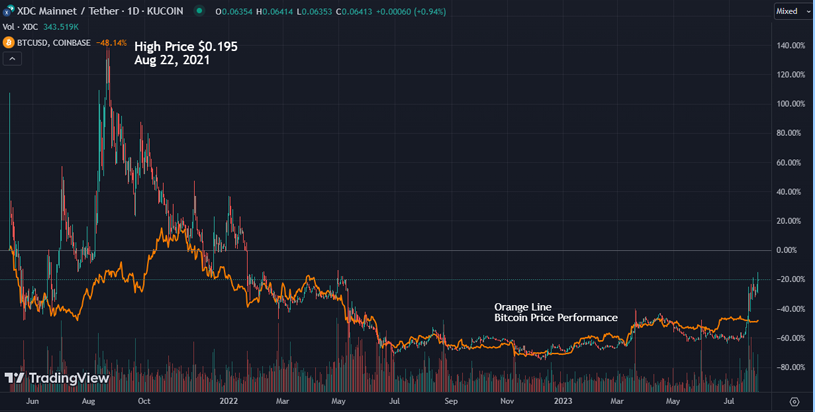 The XDC Network has been a robust performer since it began trading in mid-2021, outpacing Bitcoin during the late 2021 bull market. It weathered the 2022 bear market cycle better than most altcoins. For the majority of 2023, its performance closely mirrored that of Bitcoin. However, this changed dramatically in mid-July when its price nearly doubled in the last two weeks of the month.
Final Thoughts: The XDC Network appears to have a robust product backed by strong leadership. Its business model, centered around faster cross-border payments and settlements, represents one of the best use cases for cryptocurrency. The promise of a corporate link interface compatible with many companies on the SWIFT network is highly promising. In late May, XDC Network announced a partnership with SBI VC Trade, a cryptocurrency exchange subsidiary of the Tokyo-based financial holding company, SBI. The timely and high-ranking status of XDC Network makes it particularly compelling. Due to strong July price increase the Safety ranking has been downgraded from 3 (Moderate Risk) to 5 (Dangerous) for the August report.

Disclaimer
Quantify Crypto is an informational website that provides market data, technical analytics and links to news and commentary sources. Information published on Quantify Crypto platform should not be taken as investment advice in any way. Quantify Crypto is not an investment adviser and you agree to not site the Quantify Crypto platform or content as the reason or cause for making any trading decisions. Quantify Crypto is not accountable, directly or indirectly, for any damage or loss incurred, alleged or otherwise, in connection to the use or reliance of any content you read on the site. You agree not to consider the information on Quantify Crypto platform as a solicitation to invest in any cryptocurrencies, initial coin offerings, or other financial instruments.