Proof Technical Analysis works - Nov 24 and 25
John Barry | Thu Nov 26 2020
First a happy Thanksgiving to all of the American readers out there.
Yes, November 25th was my Birthday and I was getting many happy wishes. There were some Bitcoin related messages about how well it had been performing. At this point I had sold all the crypto in my "trading" account as the technical indicators I follow turned bearish on the night of Nov 24th. To provide tranparency and proof

A Cryptocurrency Pump and Top
This cryptocurrency market story started on November 23th. The Altcoins were performing great. I have been mostly 100% in the market since Sept 9, it's been an incredible run. Bitcoin was hitting a 2020 high of $19,481 (up ~60%). XRP was leading the Nov 23rd run, after trading below $0.25 for what seemed forever it was pumping the way crypto pumps, trading consistently in the $0.70 to $0.75 price range. This was a very broad rally with many cryptocurrency up double digits in the 24 hour time period. It was up so much, that FOMO was flowing in for sure.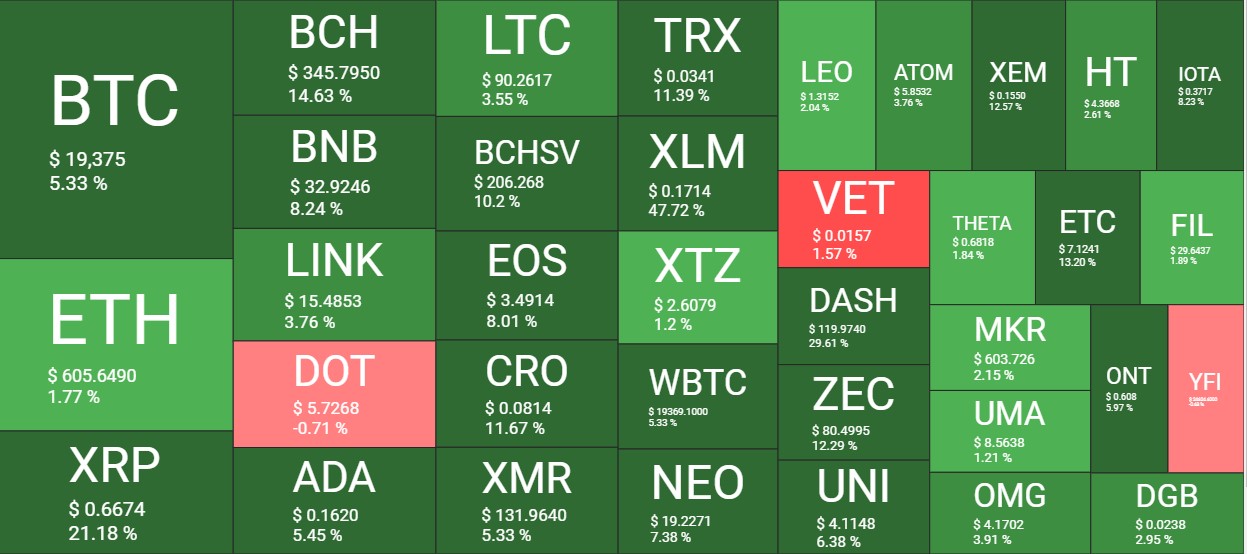 Bearish Technical Indicators
The technical indicators started to change on the night of Nov 24th. First the Trend Mean scores were touching 30% (bearish) and most of the leading cryptocurrencies were trading below the baseline values (bearish). The important MACD 1 hour candlesticks (and lower) were negative. This started to accelerate and I posted this on twitter. At this point you could still safely get out of Bitcoin at a price of $18,616. In the picture I tweeted you can see the MACD scores are all negative and the Bollinger Bands are indicating the potential for a downward spike.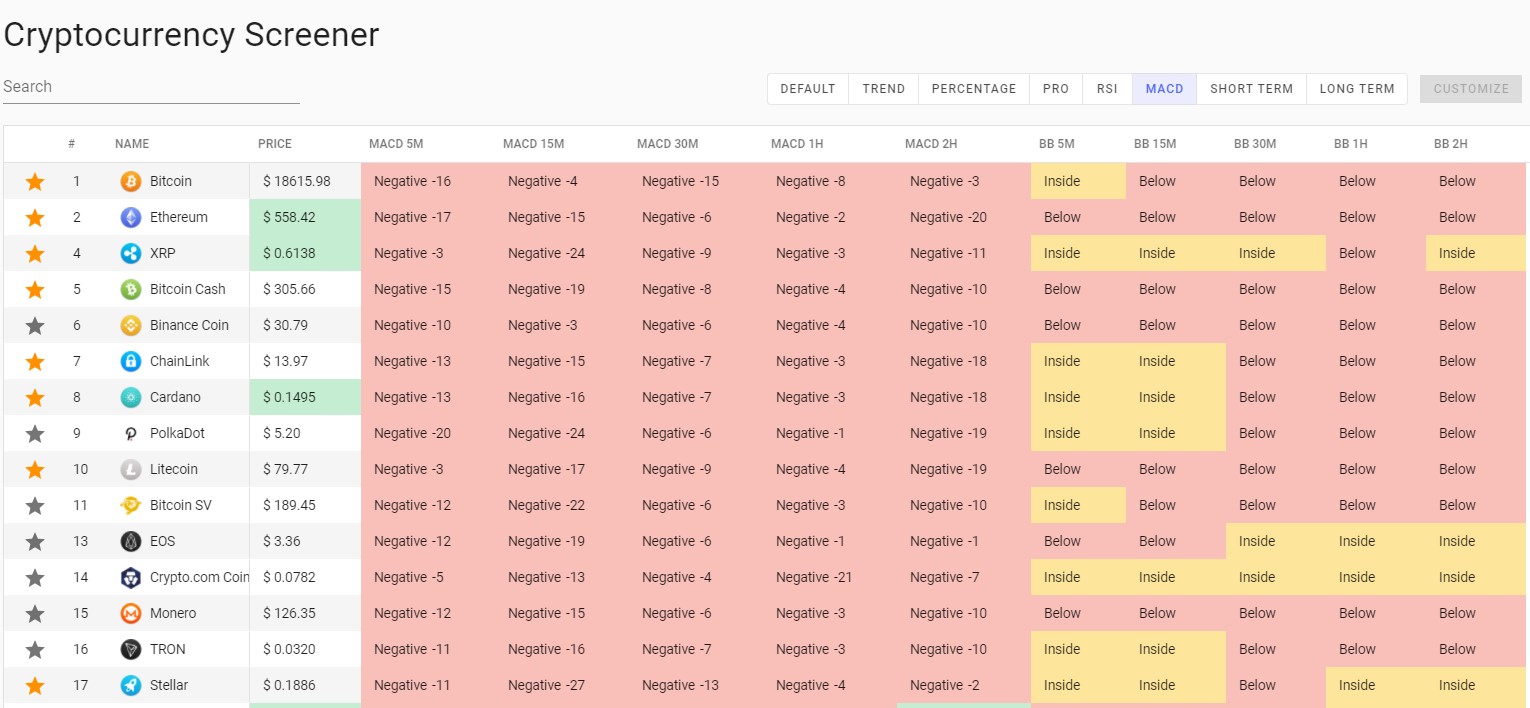 Again technical analysis was showing clear sell signals when Bitcoin could not maintain the $19,000 price support level. The signals only got worse as time progressed. Bitcoin would go on the hit lows of $16,182 with many Altcoins performing worse. Here is the heatmap at the time I wrote this article.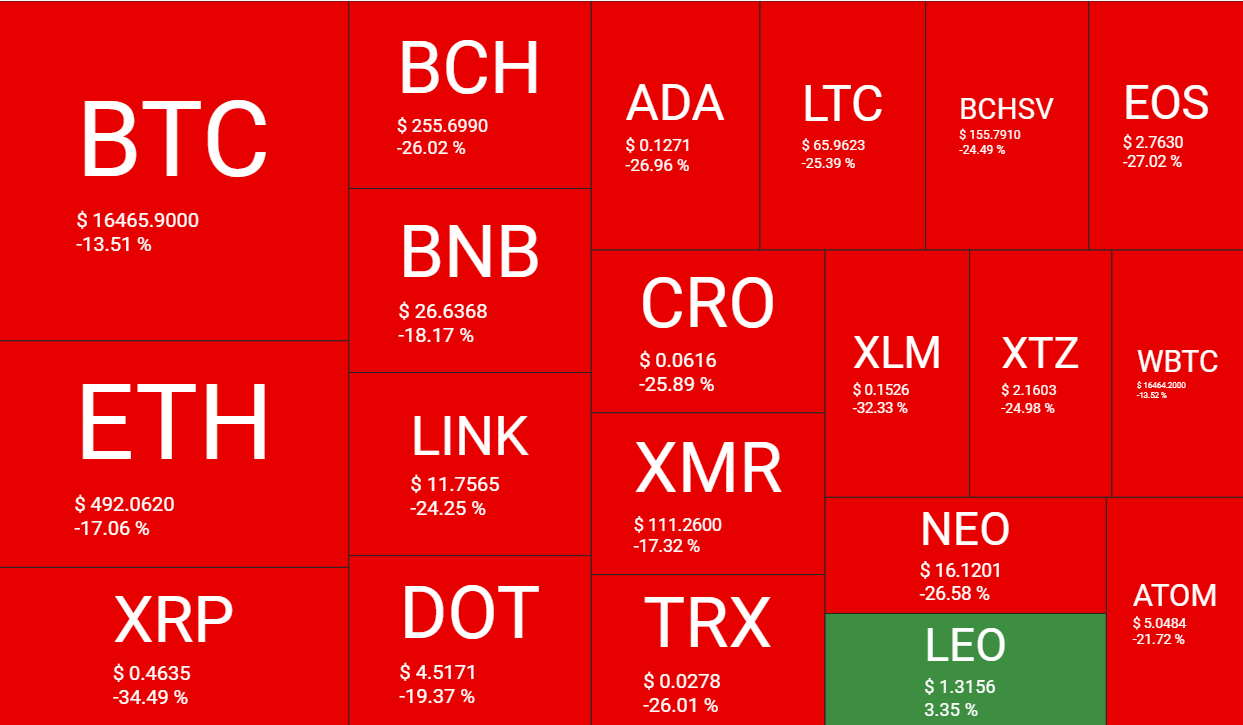 Many traders start to issue warning and to have caution
On Novemeber 24th the technical indicators on our website were not the only resource stating it was a good time to take profits. Many in Crypto Twitter were stating this.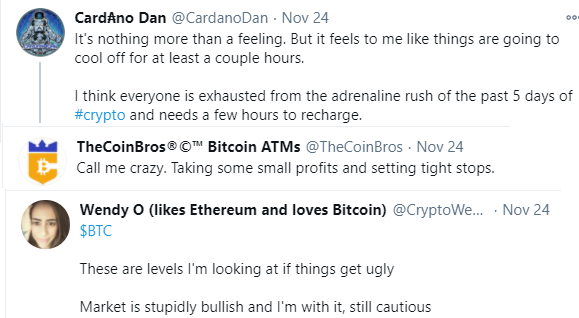 A very good video by Crypto Wendy O touched on the topic of listening to other traders, many in the crypto space were stating its a good time to take profits, Including Crypto Wendy O. Wendy O trader talk
Buying the Bitcoin and Cryptocurrency Dip
To stay transparent here are my buying the dips transactions and my current allocations. Notice I am rolling into my positions(2 series of buys 12 hours apart), these buys are based on my gut not technical analysis. Technical analysis has allowed in to make these dip purchases as I was out of the market and can make this risker trade. Notice I am still 55% out of the market. I want to see a positive trend mean score in addition to other technical analytics. I will use the same buying plan outlined in this article from Sept 10th Technical Buy Analysis - Sept 10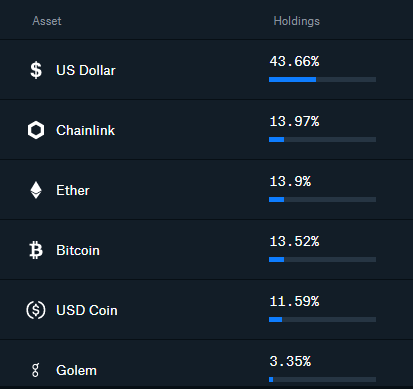 Thank You
I want to thank everybody that is coming to our website. As the number of visitors coming to our site tripled on Nov 23rd from our previous high record set on Nov 22nd.
The platform Quantify Crypto provides live cryptocurrency prices, technical analysis, news, heatmaps and more. Our flagship product is the trend algorithm, designed to be on the correct side of significant cryptocurrency price moves.

We are a new site, please check us out and let us know what you like and do not like about the site. None of this is meant to be financial advice and I do not have any financial expertise. Although I worked at the New York Stock Exchange for over 23 years, it was as a developer supporting computer systems, not as a stock trader.

Full discloser: I do own Bitcoin and have stock positions.