Proof Technical Analysis works for Bitcoin Trading
John Barry | Fri Nov 13 2020
Bitcoin is up 58% since posting my bullish call on September 10th. The goal of this article is to show how repeatable price patterns predict future price movement. Additionally I am only showing the technical analysis indicators we have researched that work well for cryptocurrency (MACD, RSI (inverse), Bollinger Bands) and created (Trend and Baseline). There are multiple ways to apply technical analysis successfully, this article focuses on the indicators selected and available on the Quantify Crypto website.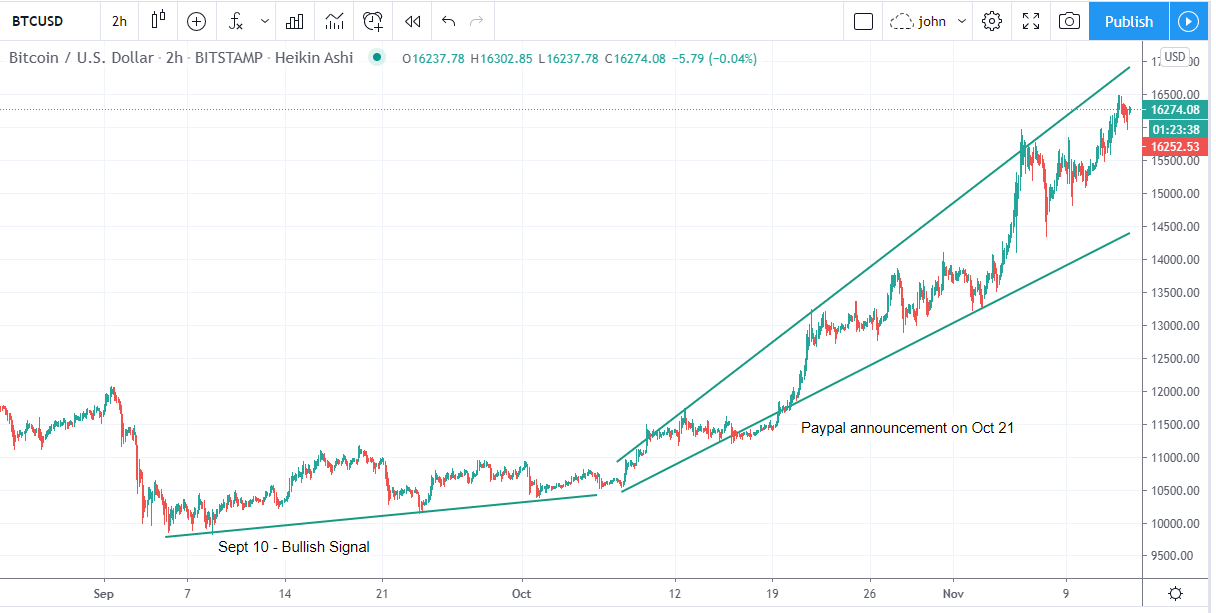 In the Sept 10 article I pointed out how the Quantify Crypto Trend Mean score had turned bullish, along with positive MACD, Bollinger Bands indicating breakout potentiation. At the time of the call Bitcoin was trading at $10,258. In the article I listed 3 main bullet points of my trading plan and the actual trades I made, click on the link below to see the details. Bullish Indicators on Sept 9
Quality Technical Analysis Detects Repeatable Price Patterns
Prior to the Sept 10 bullish call, the previous technical call was a bearish one on Sept 1. Bitcoin was trading at $11,899 off recent highs of $12,604. I published the following article detailing how the Trend, MACD. Baseline and RSI had all turned negative. 24 hours later Bitcoin was hitting lows of $9,853. Bearish Indicators on Sept 1st
Significant Technical Analysis Calls of 2020
The 2 biggest calls of 2020 occurred on March 1st and April 4th
On March 1st I warned about the potential of a market crash. In fairness the market did rebound after March 1 with Bitcoin increasing in price from $8,584 to $9,137 on March 6th. However on March 7th the bearish indicators returned: Trend Mean score below 30, negative MACD values, trading below its baseline, the Bollinger Bands indicating a downside breakout could occur with Bitocin at $8,848. Bitcoin would proceed to have its largest daily percent drop on March 12 losing half of its value $3,786. Having been out of this crash allowed me to buy the dip successfully. Crash Warning
On April 4th, Bitcoin was trading at $7,000. In the article I state "The price pattern currently for Bitcoin matches several price patterns that have occurred in the past year before major Bitcoin price spikes." I detail 5 price patterns (which I call "setup to signal") from 2019 where significant price moves occur. Again Bitcoin goes on to a significant price, reaching $10,100 on May 7th. Bitcoin ready to go SuperNova
These are 4 examples of how Technical Analysis correctly predicted future price movement.
Current Technical Plan
Bitcoin currently has a trend mean score of 40 (out of 100), so I continue to hold Bitcoin. I will continue to hold while the trend mean score is above 30. The RSI scores are neutral, Bitcoin is trading below its current baseline of $16,038 which is bearish.
In summary Bitcoin is a hold, until I see a negative trend forming. Since Bitcoin is up so much during this current run I would be hesitant to put new money in at this point. The MACD values are mixed (neutral). As Bitcoin is trading near its resistance level (now at $16,900) and is well above its support level of $14,500.
I do like Ethereum at this point for 3 major reasons, first it is on a strong technical uptrend following Bitcoin. On the fundamental side, most DeFi applications are built on top of Ethereum this market is still expanding. With the announcement of V2 for Ethereum starting on Dec 1, development progress is now moving to product improvements, historically with stocks this is often a buy signal..
Lastly I do like many Altcoins here, if Bitcoin remains stable this will add confidence to the alts which often have larger price swings than Bitcoin. I also like the DeFi tokens here (Uniswap, Aave. Curve DAO, Compound) but that is for the speculative portion (less than 10%) of the cryptocurrency portfolio.
The platform Quantify Crypto provides live cryptocurrency prices, technical analysis, news, heatmaps and more. Our flagship product is the trend algorithm, designed to be on the correct side of significant cryptocurrency price moves.

We are a new site, please check us out and let us know what you like and do not like about the site. None of this is meant to be financial advice and I do not have any financial expertise. Although I worked at the New York Stock Exchange for over 23 years, it was as a developer supporting computer systems, not as a stock trader.

Full discloser: I do own Bitcoin, Altcoins and have stock positions.